Batting Rankings' of SL Openers since Last 2015-WC: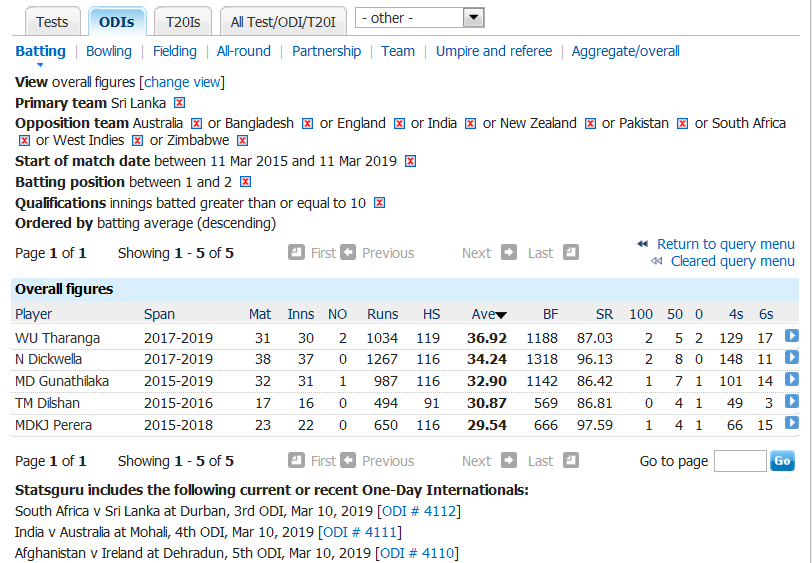 Most diabolical crime repeated was; selectively and systematically eliminating the best proven paramount options at the top – Upul Tharanga & Niroshan Dickwella – from the scene during the adjacent period leading to the vital WC… while keep accommodating all regular failures such as; Kusal Mendis, Thirimanne, Dhananjaya de Silva, Milindha Siriwardane, Thisara Perera etc… who were mainly responsible for the miserable dilemma faced by SL throughout the past couple of years as indicated in the above scoreboards.
They not only preferred long-time proven failures over assertive players (quoting a brief dip in form as an excuse, after imposing repeated axing tortures on Upul extended over past 12 months)… but as usual parachuted their selective dual sweethearts (Dimuth Karunarathne & Jeevan Mendis ) just before the WC showing no any consistency whatsoever in selection policy.!
Those two immensely lucky players seems to be just reserved by the authorities to play the most important World Cups, suddenly appearing from nowhere so easily to grab the WC spots. They were allowed to override the highly competitive unfair challenges thrown at players like UT & ND after subjecting to unsettling axing episodes to diminish their confidence & form.
Granting WC spots to DK & JM without even playing a single ODI over FOUR YEARS since their total failures in 2015 WC – to justify their spots in yet another WC cup XI – even drew the attention of international media. This ludicrous act resulted in creating another hilarious record by SL in the Global tournament history, becoming a real laughing stock. 
Outrageously, Dimuth was handed over the unearned ODI captaincy too (based on a single Test series success as in previous WC spot, that was granted based on a single Test inning). The shameless SL authorities, hell-bent on nepotism (clearly according to school ties – just imagine the odds of having 4 players in the WC squad in reality,  including the injury prone former skipper (who hasn't done anything  significant at international level to justify his current form during past 8 months), parachuted new skipper (who haven't played a single ODI for 4 yrs, since his totally flopped sudden appearance in 2015-WC), current Minister of sports & CEO SLC are all happened to be in the same camp of happy-go-lucky school-mates). The pathetic history seems repeating the entire destructive process caused the 2015-WC flop, despite Sanga & Dilly's career best efforts seen during that WC.
CENTURY Opening Partnership record of SL:
Finding productive openers, who could make consistent runs anywhere, in any situation, is not an easy task. This is even much harder in limited over cricket, as evident from futile experiments, ridiculously going on since mid-2013 in SL ODI arena.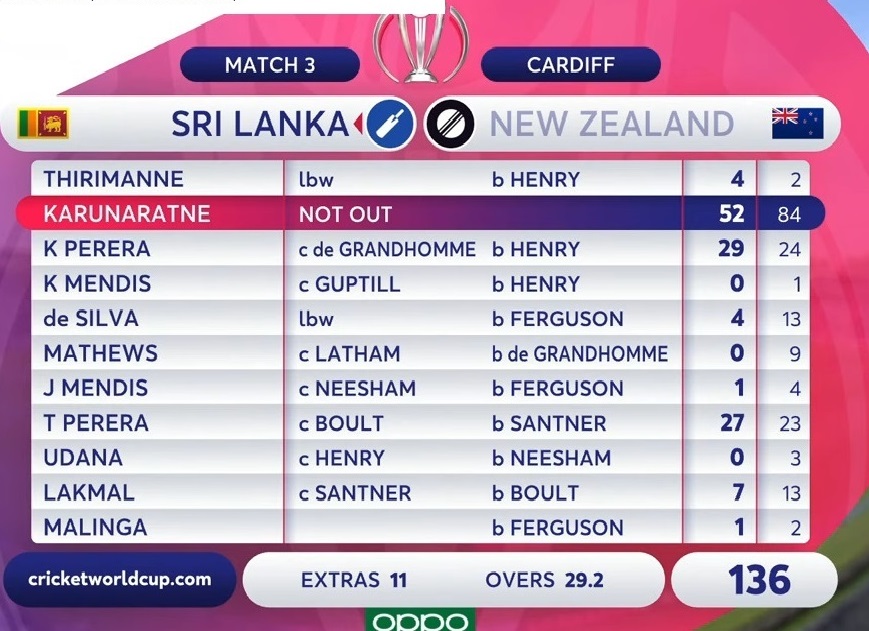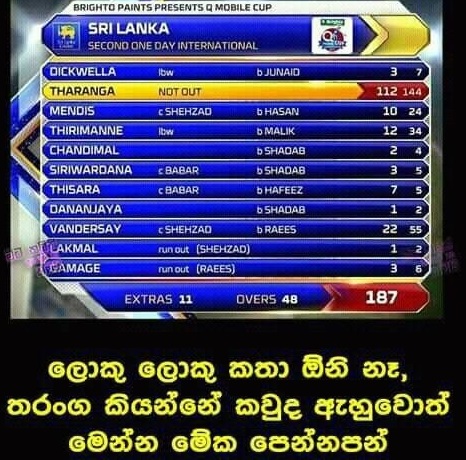 Now they praise skipper Dimuth for carrying the bat throughout the inning to scratch 50 runs Vs NZ and the match ended up with another humiliating defeat, due to the rest of the batters (Kusal Mendis 0, Dhananjaya de Silva 4, Thirimanne 4, Mathews 0) failed to do their job.
I would like to remind one of many diehard individual efforts put up by Opener Upul Tharanga during his brief tenure as skipper, becoming the World's First Skipper to carry his bat throughout the inning in 2017 November, just 18 months ago.  
The difference is, the opening skipper Upul Tharanga (who was systematically kicked out of 2015 & 2019 WC squads by subjecting to repeated axing and mental suppression – not allowing any international exposure over 6 months period since mid-2018 leading to the WCs) remained unbeaten with one of his many diehard efforts with an unbeaten 112* Vs Pk in 2017 Nov (apart from his similar 90 ball 119 vs SA & 82 ball 95 vs India in Dec 2017 )  …. to bring the side so close to the winning goal… but ran short of very few runs & unfortunately stranded without partners, more than 2 overs to spare in that occasion .!
The side led by Upul Tharanga was filled with the SAME BUNCH of eternally failing culprits responsible for SL's entire hell-hole in past 2 yrs, yet continuously allowed to enjoy the gratis spots unjustifiably granted to them to date, including the WC squad as well – ie: Thirimanne, Kusal Mendis, Dhanjaya de Silva, Milindha Siriwardane etc)…. while the most productive overall pair of ODI run makers during past 2yrs,  Upul Tharanga & Niroshan Dickwella being inhumanly axed out of the scene.
SL's ever best Opening pair with most 100+ opening stands together: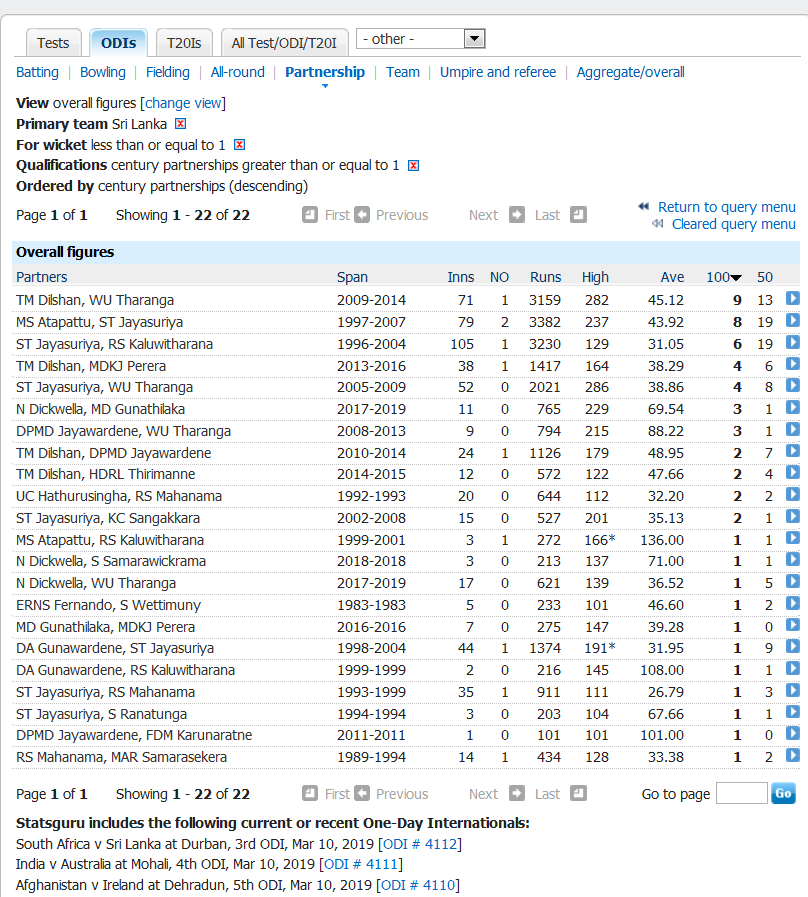 TM Dilshan / U Tharanga  ( 2009-2014) : 71 innings , 3,159 runs @ 45 Av –  9 x 100+ stands , 12 x 50+ stands
Chief selector Sanath Jayasuriya initiated the downfall by dismantling SL's most productive Opening pair (Dilshan & Tharanga) in ODI history. He axed Tharanga in mid-2013 despite scoring the career best unbeaten 174* score in WI vs India (series Av 56) & winning his 11th MoM award, just 3 weeks before the 3yrs long axing imposed on him.  The reason was 3-inning lean patch in the series followed
This ridiculous move was proved to be very costly, lading to the fading of SL's best chance to lift the 2nd WC in 2015. If not for the upfront setbacks repeatedly experienced up to knockout, SL could have surely entered the final as we did in previous 2 WCs (2007 & 2011) with immense help from Openers, Dilly & Tharanga (became most productive openers in WC history to date, by yielding 800 runs @ 100 Av)  & in 2007 WC Tharanga made 3 x 50 including  a vital knock of 73 @ 99 SR Vs Nz in the semi Final,  propelling SL to the Final.
It is worthwhile noting the fact that Kusal  Perera was given a free lease, broader than the sky, to fly over the moon with kind courtesy of SJ.  Any of his competitors were not even considered for squads (in all series he played to date in England, BD, in Sharjah & in SL, Vs Eng etc). But on the other hand, in the solitary occasion (since 2013) that UT was considered as the first choice opener (on paper), at the beginning of Indian series, strangely KJP was also somehow included in the squad as the 3rd Opener. What happened next is history now.
In the backdrop of above scenario, thought of sequencing UT's blocked voyages over past decade:
– 2009:  13 in /523 r/ 40 Av/1 X 100 – 4 X 50 – UT was dropped for 6 months – due to 2-Odis lean-period in Jan.
– 2010:   22 in /707 r/ 37 Av /1 x 100*-5 x 50 – dropped again for 5 months – due to 2-Odis lean-period in Jan, despite scoring 100*+ .
– 2011:  21 in /826 r/ 46 Av /4 x 100 -2 x 50
– 2012:  26 in /752 r/ 30 Av / 8 x 50
– 2013:  11 in/287 r/ 28 Av – 1 x 100
– 2014:  Just 5 Random innings months apart / 111 r/ 22 Av (seems like a deliberate move to tarnish his record, without providing any substantial window to settle)
– 2015:  Just 4 Random innings months apart / 68 r / 17 Av (seems like a deliberate move to tarnish his record without providing any substantial window to settle)
– 2016: 10 in/ 214 r/31 Av – 2 x 50   (sending to bat all over from No 5, 6, 7, 8 & 9 in the tail)
– 2017: 25 in/ 1,011 r/ 48 Av – 2 x 100 – 6 x 50 @ 95 SR –  this year, he was given the First decent opportunity with consecutive matches without throwing the immediate axe at any slightest setback in making runs, after facing 5yrs of virtual pause in his career – He got back his regular spot to open after 4.5 yrs.
Upul was named as ODI skipper in 2017, with the assurance of his place for the 1st time in his entire career without the pressure of intermittent axing stumbling blocks repeatedly unsettled him throughout his career. As a result of that mental freedom, Tharanga became the world's 3rd best productive ODI batter in 2017 (only behind Kohli & Sharma) stamping the Most productive year of his entire career.
Innings between Tharanga's 50+ scores since Jan 2017 up to imposed six months long axing blackout: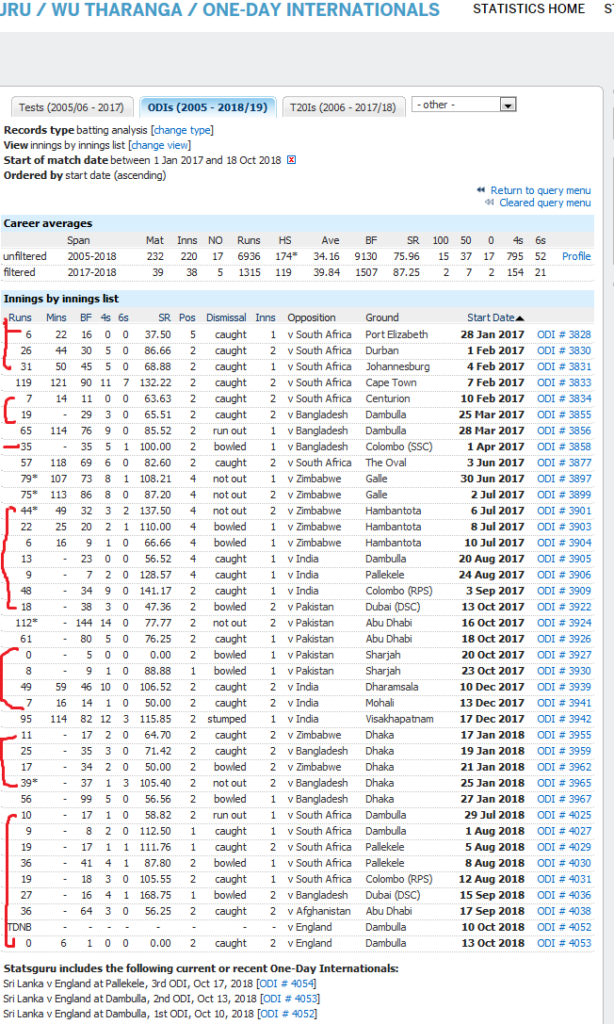 Despite this prolific Opener's well maintained impressive overall ODI career record in past three years, even becoming the 3rd Best ODI batter in the World in 2017…..  scoring 1k+ runs for SL @ near 50 Av & 90+ SR with 2 away Centuries (vs SA & Pk) & 6 x 50+ (including 95 Vs Ind) plus another 3 near-fifties (46 /49 vs Ind & unbeaten 44* vs Zmb)… Opener Tharanga's progress was abruptly halted by the Coach Hathurusinghe (obviously after applying so much of parochial pressure behind the scene)…just because of a lapse of a 50+ score in 8 innings since his MoM award winning,  SL's only ODI series success (BD triangular series) stamped 50+ score in Feb 2018.
As happened during the immediate period, leading to 2015 WC – in mid-2018  his career was unfairly halted again with cruel axing (due to 8 innings lean patch since his series winning half century in BD triangular Final).  This well calculated deliberate axing put him away in the dark for six months without allowing a single international match in any format until 2019 March, despite being the man of the match in crucial final in 2018 BD triangular and being the 2nd highest run maker who took record equalling 7 catches in that 5-ODI series. In this occasion, Tharanga's quite a few such potentially match/series winning efforts seen throughout 2017 (in India 95, in UAE Vs PK  unbeaten 112*, in SA 119, doomed series Vs Zmb 3 consecutive unbeaten 50+ innings batting lower down @ No5 ) was not wasted, as the regular failures like Chandimal, Mendis, DdeS etc in brittle batting unit made some contributions. Upul was mainly behind that SL's only ODI series success seen over 2yrs to date & he was the highest run maker for SL in doomed Asia Cup as well.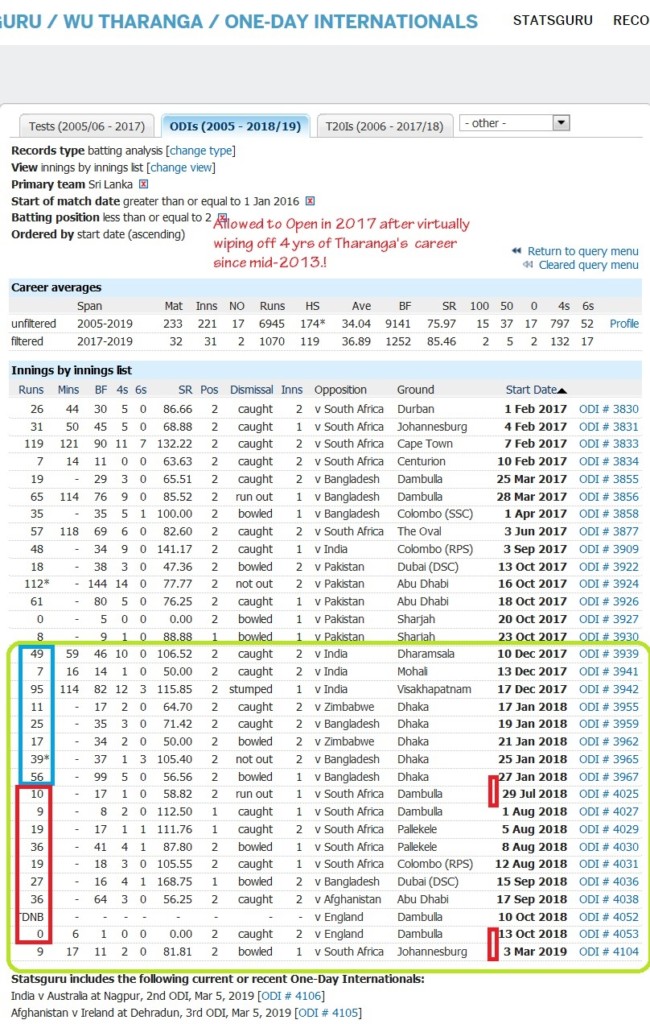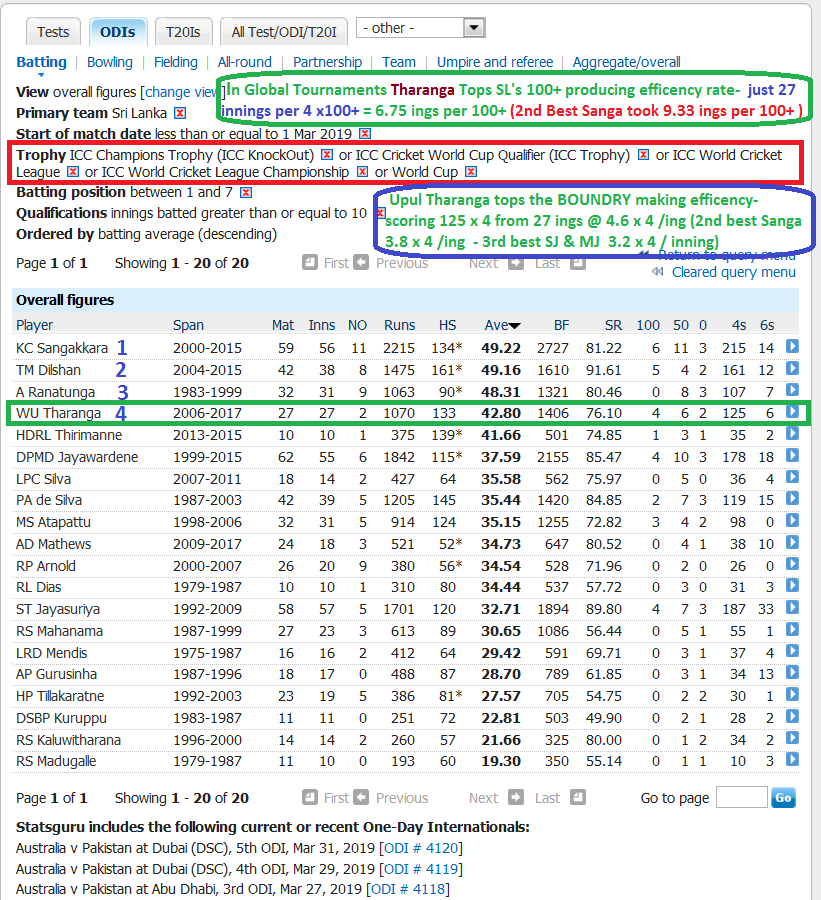 Without looking at the whole picture to understand the truth, some Blind Critics too dumb to accept facts may say I am crying for UT & ND with repeating statistical jargen.  But the predicted outcome & reality is visible to all of us today, since none can deny or change it.
The pathetic state of SL Limited –over cricket scenario (similar to the self-destructive nature prevailing in every other thread of social fabric of current SL)  is mainly due to the culprits running the show. Most diabolic crime repeated since 2013 is oppressive under-utilization & unwillingness to reap the harvest of most assertive crop yielding investments, purely to activate their personal agendas and mindset at the cost of Nation's joy & pride.