After Yuvraj Singh lost his place in the Indian Test side to Suresh Raina, the middle order batsman had been asked to carry drinks for the team. There is nothing unusual about this. The 12th man always carries refreshments and gear to those in the middle.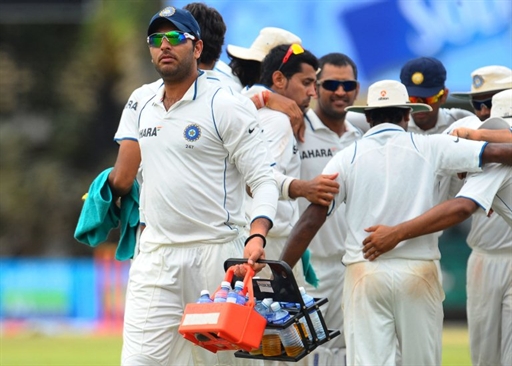 So, during a break in play on the first day of the ongoing third Test, while Yuvraj was happily skipping away to the middle with drinks, a section of the crowd started chanting "Waterboy". Singh lost his cool and gave the crowd the middle finger.
You think that's bad? Listen to this,
The Indian team manager, Ranjib Biswal, says that he is not going to speak to Singh – a supposed role model – about his behaviour. Instead, he wants to file a police complaint against an entire group of spectators.
Taking note of the incident, Team India manager Ranjib Biswal said they are planning to file a police complaint against the fans who jeered Yuvraj.

"We are mulling to lodge a police complain against the fans who had tried to jeer Yuvraj when he had come out to provide drinks during the match," he said.