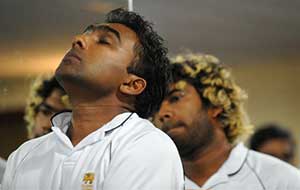 Following our defeat at the world cup, the SLC seems to be tumbling in a downward spiral, and the overall feeling is negative. The building of the stadiums seems to have put the country in a 2.5billion rupee deficit and the SLC selection commitee has reseigned. Furthermore the players are clearly dejected and Sangakkara and Jayawardene have given up their roles as captain and vice without even a murmur from the SLC. DS De Silva is under scrutiny, Aravinda De Silva has left because of post-cup depression, and Trevor Bayliss has critiscised the establishment for their shortcomings during the world cup.
Before the world cup we were a formidable force, perhaps not favourites but a tough team to be reckoned with, but now it feels like the foundations are crumbling and Sri Lankan cricket is crashing down in ruins! We should be moving forward and using this opportunity to start fresh and rebuild the team with the abbundance of fresh raw talent we posses.
To start with, the appointment of Dilshan is a pathetic joke. Perhaps being a T20 captain suits his fiery and aggressive nature, and while he is no doubt a brilliand opener and one of the most audacious batsmen in the game today, he lacks leadership and the sense of command that Sangakkara brings with him. He can be impatient and knows less about field placings and tactical cricket, essential charactisics of a captain. Another concern is his age. Being 34 means that he will be 39 in the 2015 world cup, being of retirement age making him not an ideal choice to captain the side. The team needs a captain who is young and full of ideas, who may be hotheaded at first but will settle and mature with time – a factor Dilshan does not have. He should stay a prominent figure in cricket and an opener, but he is not a suitable captain.

Instead the best choice would be Angelo Matthews. Unlike Chandimal and Maharoof, Matthews has got into the side and stayed, and shows promise and potential along wih flashes of brilliance.He is young so will last througha few world cups, and can be trained and groomed by Jayawardene and Sangakkara, who have tipped him to succeed them. The captain should be the same in all forms of the game to keep consistency and Matthews is able to to this. An ideal vice would be Dinesh Chandimal who played a great part in the T20 world cup and he shows promise of being a good wicketkeeper batsman.
In addition to captaincy, the batting order has to be sorted. We do not have a strong line up in Samaraweera and Silva, these more veteran players are suited to the longer format of the game, (as samaraweera's test ranking shows). Instead, Kapugedara should get more exposure, and a talent such as Bhanuka Rajapakse should be in the team along with Kulatunga and others with real batting prowess.
In the bowling line up Shaminda Eranga shows promise as well as Nuwan Pradeep, and key is to have bowlers who are fast. We have always struggled to produce pacey bowlers bar Malinga but the younger generation shows promise and potential. Thisara Perera and Nuwan Kulasekara lack true speed but can bat, which makes them good "No.7" candidates but we need very fast men to open the bowling for Sri Lanka. We have never really struggled to produce spinners and Mendis and Randiv can forge names for themselves when the chance to perform arises.
In concern to coaches, Stuart Law can coast us over the England tour but we need to bring in a good coach. John Buchanan's credentials may be standout, but I personally feel that the best selection would be Tom Moody. He has worked with the side before and so he knows the players well and can coach in conjunction with their unorthodox styles. He took us to the final in 2007 and he is more than capable of replicating that and taking us further if he gets a young fresh squad to work with. Then icing on the cake would be if Sangakkara, Dilshan, Jayawardene and Murali all stayed relatively immersed in SLC after their retirements – maybe even assistant coaches!
Finally, the corruption in the SLC needs to be stopped. They are the only people hampering Sri Lanka's victory and progress and the money hungry devils need to be flushed out and removed. Aravinda De silva is a key man who knows the upcoming players and so he need to be brought back, but the beaurocrats and hypocrites need to be taken out, and the sports minister needs to be given a stern reminder that the government politics has nothing to do whatsoever with cricket.
These are my personal views, I hope they proved insightful and useful.