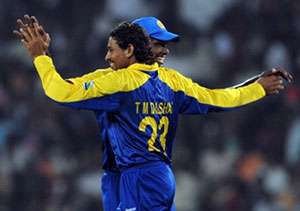 In an interview with Sriram Veera on Cricinfo Magazine, Kumar Sangakkara said both Tillakaratne Dilshan and Angelo Mathews are ready for the captaincy. But citing age as a reason for his abrupt resingation, Sangakkara contradicts himself as he'd go on to endorse the firing opening batsman for the job.
"If I was younger, if i was 30, maybe it would realistic to stay on for a while."
"If you want to go for Dilshan, give him the confidence for a long term. Don't give the captaincy to Dilshan and say, 'You are just going to be captain for a year and a half.' It's not going to be good for him, for he is going to think, 'My days are numbered anyway.' And so it won't be good for the team."
Sanga also said at one point during the interview, "I don't know whether he [Dilshan] will be the long term candidate with his age…"
Therein lies the dilemma Duleep Mendis and company are faced with; this new selection committee has inherited a sticky situation. While rumors swirl that Dilshan will be tabbed the next skipper, it simply doesn't make sense.
Choosing Dilshan to lead the side for a full four year term defies logic because there are no guarantees Dilshan will be able to maintain his form and keep fit. Chaminda Vaas and Sanath Jayasuriya were shown the door when their performances no longer merited selection and Dilshan is no different.
Whether or not he can continue to earn his place in the eleven through Australia and New Zealand 2015 remains to be seen, but appointing him captain for the next four years, now, is premature to say the least. The captaincy shouldn't serve as his entitlement to a spot in the squad, either, unless he continues to score.
It is in his best interests, as well, that Dilshan focuses on batting to ensure he can stay on as long as possible, and assuming that is his mission, the captaincy burden would be the last thing he needs (there is top order, young blood waiting in the wings).
Tapping him interim captain for two years would, like Sangakkara said, be a decision detrimental to his psyche and possibly his play. A temporary role at the helm for the egoistic, explosive opener as Angelo's training wheels, would make his future very insecure, should the leadership bog down his form.
Kumar told Cricinfo with confidence: "Yeah, even Angelo is ready."
"Graeme Smith was put in at 21 or 22. He didn't have a good first year but then he developed into a good captain."
Mathews plays mature beyond his years. Many praise him for his cricket intellect and his credentials at a youth level for Sri Lanka and school level, and he has 'captain' written all over him.
Angelo is the long-term answer, and the presence of world class leadership like Mahela and Sanga, with Dilshan as his deputy, will keep the growing pains to a minimum and allow him to blossom both as a player and skipper.