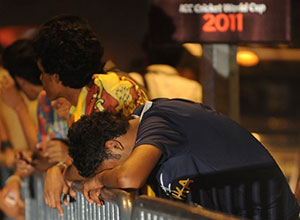 Needless to say, losing another World Cup final is tough to swallow. Especially this time around considering the circumstances, where we were poised to take it home.
Digesting the disappointment won't be easy, and as the IPL commences we're left to wonder what could've been (and what the selectors were thinking). Eventually, the grind of another four year cycle will begin, and when it does, Sri Lanka will face some serious questions.
The team has enjoyed a healthy balance of ripe youth and rusting experience, and now looking ahead, we're at a crossroads.
The likes of Kumar Sangakkara, Mahela Jayawardene and Tillakaratne Dilshan, the core of our batting and fixtures in the side, will be 37, 37 and 38 respectively by the next World Cup. Phasing out the old guard for the sake of it wouldn't make sense, but if the star trio declines in production, the top order is in for a makeover.
Now, Kumar and Dilshan were among the top scorers at the World Cup and Mahela's knock in the final was superb so they're showing no signs of letting up. But it is never to early to think about who can step up when the time comes. Also, who can stabilize the middle order? Angelo Mathews has a bright future but beyond the Josephian, can Chamara Kapugedera cash in? Thisara Perera? Who are the candidates?
We'll miss Murali terribly, and there is no one to replace his experience, quality and match-winning ability. We'll pray Ajantha Mendis can continue to develop and make adjustments the same way people have adjusted to him, but there is no more holding him back. Sri Lanka cannot afford to do that, and if Mendis is the star the selectors see, there is no holding him back. Mendis may not even manage as the lone spinner, but Suraj Randiv also has potential.
We definitely need another pacer next to Lasith Malinga. The Slinger calling his World Cup career quits from here onwards emboldens the need to groom a fast bowler for the future within four years time. Right now, it seems like a new face will have to emerge because the quick options in the squad aren't very appealing (Nuwan Pradeep: Malinga 2.0?).
How long will Kumar carry on as captain? Who will he pass the baton to? Is Angelo Mathews ready?
Questions galore in the long term outlook. Short term, the side ought to be moulded with Australia and New Zealand 2015 in mind and who knows what can happen between now and then. Hopefully the surprises are pleasant.
The World Twenty20 in Sri Lanka 2012 will be a huge opportunity for our boys to end the title drought and even before that we have plenty of cricket to be played. The World Cup was a good showing for the lions, but there is still work to be done.