For the second time running Waymba are representing Sri Lanka in the Champions League T20. The sad part of it is that many columnists in cricket web sites regard this team with a degree of sarcasm.

Despite being a domestic side boasting national players and being the domestic champion of the number one sport in the country the team could not find a sponsor.
With so many local companies having the potential to do so it was frustrating to see an Indian manufacturer of Sex-enhancing drugs come forward to sponsor this team.
The embarrassment does not end there. The theme song for Wayamba had to be produced and sung by Indian artists. The result was a sick joke with a catchy tune (thankfully only Sri Lankans can understand that this song is total rubbish). The song is sung in a language that vaguely resembles Sinhala.

Finally, the name itself is a largely unimaginative and senseless one. Wayamba Elevens.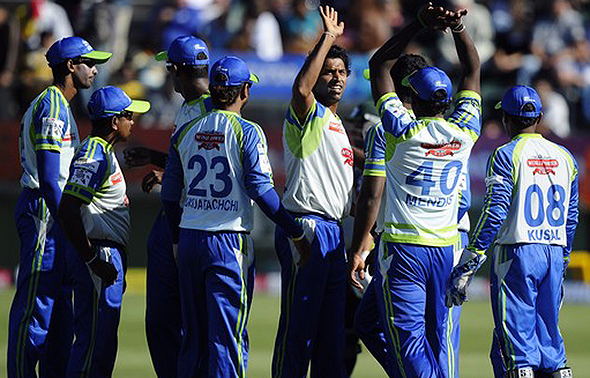 A columnist on Cricinfo says "…I was tempted by the Wayamba Elevens (although it turns out, disappointingly, that they are only allowed to field one XI)".
Obviously the name comes from the start of the SLC inter provincial tournament in 2007/8 where the tournament itself was called "Five-Elevens". But certainly when you are sending a team to a series with a bit of publicity you have to make sure the country isn't embarrassed. I agree the IPL teams too have some outright stupid names, but theres no need to follow their example. The name could have just been "Wayamba". Or even having a local name, like the Lahore Badshahs did in ICL would have been better.