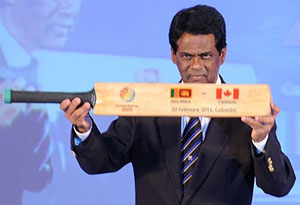 Somachandra de Silva uncle has pulled up his socks and slammed the media for publishing 'false reports' about the condition of the grounds, according to BBC.
"Can you take seriously what those newspapers say? Have those newspapers ever said anything good?" Somachandra asked the BBC when it was brought to his attention that several news articles have all said World Cup venues were behind ICC deadlines.
After his response, the BBC clarified the facts: "ICC chief executive Haroon Lorgat recently revealed that five of the 15 venues across the three host countries were behind schedule – notably Mumbai and Kolkata in India, which are both undergoing major renovations."
Uncle, why don't you sue them if they are just telling lies?
If you don't know the joke, this is what president Mahinda Rajapaksa had supposedly asked Nishantha Ranatunga after the president was told not to believe what is being written in the newspapers when the president met SLC officials recently.
With the big sporting 'do' almost at our doorsteps, the officials concerned had gone to meet the Big Man at his castle that is before the Big Boss decided to see for himself the work that is being done regarding the big outing. The officials had told the Big Man not to believe the things that are being published in newspapers. The Big Chap who had given a piece of his mind to the officials concerned earlier had told them: 'In that case why don't you sue the newspapers?'
Uncle Somey appears to be taking the option of blaming the media. This is a very popular option to take on this lovely island. But sadly for uncle, he has contradicted himself badly.
While still speaking to BBC, he admitted that the stadium in Hambantota is still not ready. In fact, he has admitted that none of the stadiums are match-fit days after he promised to hand over the venues to the ICC.
"Both R Premadasa Stadium and Pallekele Stadium are 99% ready. I hope Mahinda Rajapaksa Stadium will also be ready soon," added De Silva.

"Apart from Hambantota, only the cleaning phase is left in the other two stadiums."
Uncle Somey can't even get his story together. Two weeks ago he said the venues will be handed over to ICC, meaning 100% complete, by January 15.
"De Silva said the construction of Pallekelle, Kettharama and Sooriyawewa grounds will be completed soon, and they will be handed over to the International Cricket Council [ICC] by the 15th of this month," the state run Sri Lanka Broadcasting Corporation (SLBC) reported today.
It worries me to hear the chairman of Sri Lanka Cricket say "I hope Mahinda Rajapaksa Stadium will also be ready soon" less than 30 days before the start of the tournament.