Now that the crucial "knock out" round of the ICC world cup has arrived, I want to raise some thoughts on the last minute changes that are sometimes incorporated into teams based on the interpretation of the state of the playing surface or anticipated weather conditions, etc.
Are these really necessary?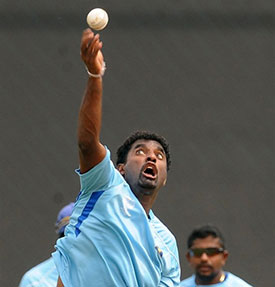 At this level of cricket, most players are extremely good at what they do. They should be able to adjust to anything that is thrown at them (I don't mean literarily) and the only real mitigating factor is current form.
Hence, shouldn't the best 11 be picked on current form? If the combination is going to be six batsman and five bowlers or any other shouldn't the best six batters and the best of the bowlers be picked?
Of course, it goes without saying that, the choice of an additional seamer or spinner based on the playing surface is acceptable. Although, according to my doctrine, sometimes an experienced, consistent spinner could be preferred to a "wild card" seamer even on seamer friendly tracks.
Sometimes an all rounder is batting better than a specialist batter at a given time, shouldn't the all rounder play in place of the out of form specialist?
On that basis I feel that Sri Lanka should play someone like Thisara Perera if he is currently batting better than someone like Chamara Silva or Chamara Kapugedera. Going with one of the Chamaras simply because they are the specialist batters doesn't make sense to me.
Likewise taking injured players into games of this importance, regardless of their past value doesn't make sense to me either. So if Murali is not FULLY fit don't play him; it is much better to allow him to perform with dignity, than to see a fine athlete like him limping around the field.