In the end, maybe fittingly, the rain ended the three test match series, giving England 1-0 series victory. It could have been much worse without the weather interruptions, but on the other side it could have been much better if Sri Lanka were focused, for at least 25 overs in Cardiff.
Going up against England in their home conditions, is very tough under normal circumstances, but against this Ashes winning team, riding high on confidence, ability and form would be tough for a team in good form. This squad of players that England currently have must be the best group of players available for England for a long time. To compound the problem, cold conditions do not inspire Asian teams to be at their best.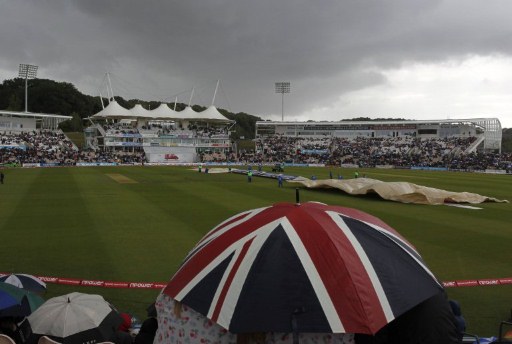 So what can Sri Lanka take out of the series?
The bowling was very ordinary, all the bowlers tried hard, but as expected they struggled to make any game changing impact in unfamiliar conditions.
First up, it's disappointing to see Dilhara Fernando bowling so badly, with his experience he should be able string together at least a few good bowling spells – one reason for the inclusion of Fernando is his pace, which separates him from other bowlers in Sri Lanka.
But pace alone does not get you wickets. You need to bowl a good line and length. I'll take a good line and length bowler over a erratic fast bowler any day.
In Sri Lanka, it is very difficult to find bowlers who consistently bowl above 145+kmph. The weather and pitch conditions does not simply allow this. Therefore, Sri Lanka should look for bowlers who can swing the ball – any bowler who can swing the bowl consistently will take a lot of wickets on any pitch type, this will mainly help when playing outside the subcontinent.
If they are to challenge teams outside the sub continent, I believe this is the way forward – concentrate on swing and seam bowling. In the spin department, there was nothing on offer for the spinner, but it was puzzling not to see Suraj Randiv playing in any of the matches.
The batting of Prasanna Jayawardene was very impressive. He looked very comfortable batting at no 6. To be honest, he was the one with the most to lose, if he failed in England after Kumar Sangakkara gave up the captaincy.
Sangakkara is available for wicket keeping duties, which means Sri Lanka can play an extra batsmen if they wanted to, which means Kaushal Silva, Dinesh Chandimal, Angelo Matthews Lahiru Thirimanne are all in the running to take his place.
Someone who deserved a hundred was Tharanga Paranavitana, who showed great patience and technique when facing the new bowl. He seems to be a great partner for Tillakaratne Dilshan.
A lot has been said about the failure of Sangakkara and Mahela Jayawardene. At least Sangakkara made amends by scoring a match saving century at the Rose Bowl.
I thought Mahela got some very good deliveries on and around the off stump – exactly the area where he is vulnerable in, so I don't see it as a cause for concern. Let's hope he bounces back in the next series.
Looking to the future, I hope Kaushal Silva gets a chance to play for Sri Lanka sooner than later.
I'm looking forward to the one day series. With Lasith Malinga, Nuwan Kulasekara and Angelo Matthews all coming into reinforce the bowling department, it will be an even contest between the two teams. Given England's poor form in the 50 over version, I won't be surprised if the World Cup runners-up win the one day series.