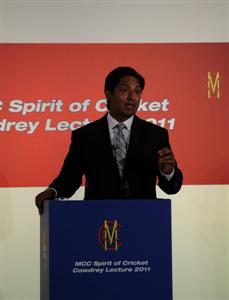 'The ultimate measure of a man is not where he stands in moments of comfort and convenience, but where he stands at times of challenge and controversy.'
Sri Lanka cricket has seen nothing but controversy, since the World Cup defeat in April. I said we were falling to pieces then and little did I realise, at the time, that we were doing so in a bottomless pit.
Tillakaratne Dilshan's appointment as captain, found many a sceptic questioning the move, with references made to the Abu Dhabi tour in 2007, in which he first tried his hand at captaincy, where temper tantrums were seen thrown at even senior players like Sanath Jayasuriya.
Yet, it was hoped that age, maturity, experience and time spent under two of the best captains this country has ever seen would have had an effect on him.
His stony-faced expression, flailing arms and angry shouts from the balcony last Sunday, during Dinesh Chandimal's amble towards his 100 in the 3rd ODI against England, begged to differ however.
Why he couldn't understand the importance of a century at Lords to a youngster playing just his sixh game is beyond me, especially considering the match result was never really at stake. Hence, the scenes on the balcony were nothing short of farcical to me. The only thing worse I've seen on a Lord's balcony was the shirt waving, bare-bodied Sourav Ganguly!
Thilina Kandamby's role in the team is still unclear and so his appointment as vice-captain only serves to baffle.
Sanath Jayasuriya made a comeback, albeit a brief one, for a 'farewell' match and has now retired from international cricket. This time, hopefully, for good.
Upul Tharanga has been banned, thankfully for just three months and will be back in action by the 9th of next month.
The Test series in England, barring that last session at Cardiff, didn't go as disastrously as it could have gone – lf the Cardiff session was anything to go by.
The ODI series seems to be going well in patches, but while individuals have shone at various times, a collective team performance is yet to be seen.
The SLPL has come and made a hasty retreat, after running into a host of stumbling blocks.
And yet, amidst all this disarray, one man stands tall – a man whose integrity, charisma, charm and eloquence appear to be the stuff heroes are made of: Kumar Sangakkara. Reflecting back, now I realise that the two occasion I've been the proudest to be a Sri Lankan, in the last couple of months, have both been while he was speaking.
The first, ironically enough, was just after our defeat in the World Cup finals, during his speech at the post-match presentation. That address, filled with as much grace as humility, not only lightened our hearts and lifted our spirits but also gave a nation, whose dreams had just been shattered, the will to look up once again; it gave us the pride and dignity to hold our heads up high and the ability to smile through the tears.
The latest, just this Monday, at the 11th MCC Cowdrey Lecture, where he became the first Sri Lankan, the youngest player and the first player still playing international cricket to ever give the lecture. He became the first man since Desmond Tutu in 2008 to receive a standing ovation for it.
It might have been the dead of night, we might have been tired, but from the minute I heard his voice, from his first words 'Mr. President', to his last, 'Sri Lankan', taking us through the history of Sri Lanka to Lahore – Kumar Sangakkara had me captivated.
His sweet tales of sweetened tea, were in deep contrast to his revelations of the power-hungry officials and authorities in the country, and the political interferences that have now become so frequent in cricket in Sri Lanka, that it came as no surprise to any Sri Lankan listening.
It is these allegations and scathing words of denunciation that have got him in hot water with the board now.
No honest Sri Lankan could have felt anything but pride and awe listening to him that night. It was a speech made by a proud Sri Lankan, with perhaps too much integrity for his own good.
The words he spoke were not out of a desire to paint himself as superior to others, or to glorify himself. It did not go along the lines of 'this is what happens, but I take no part in it'.
Instead, it was an heartfelt attempt of revealing what was going on, a wake-up call to those in question and a brave step towards correcting a wrong, by a man tired of seeing what was happening to the game he loved; the game he's committed his days to, in the country he loved. Here was a true patriot.
Yet, while the international community hail him as a brave man, one who is a credit to his country, the authorities of his own country instead are denouncing him. This is the sad reality of Sri Lanka.
To take any action against Sangakkara for this, will be to hit the nail in the coffin of Sri Lankan cricket. But a recurring question that bothers me, is what pushed him to this? What made him risk his career and take it into his own hands by talking out like this? The speech had about it a 'come what may' air, and this worries me, for what pushed him to the brink like this?
Thankfully, the determination, fire and passion on the field seem unchanged – his 75 on Wednesday proves, if nothing else, just that. And yet, it seems to me that something is amiss off the field.
Sangakkara knows the full extent of the power of the authorities in Sri Lanka. He must have known that this would not be without repercussions but he spoke out. While that is only a testament to his vast character and integrity, it does raise some worrying issues.
That speech was the 'measure of a man', and a great man at that, who will 'today and always be, proudly, Sri Lankan', as the rest of us should be, that he is so!