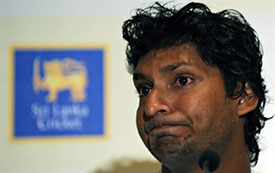 Recently, the International Rugby Board stripped Sri Lanka of its full-member status because it had failed to conduct elections for the domestic body that governs rugby on the island – Sri Lanka Rugby Football Union (SLRFU).
The SLRFU failed to meet the IRB's rules and regulations in place, which requires all full-member nations to conduct elections to appoint officials for rugby's governing body in Sri Lanka.
Contrastingly, Sri Lanka Cricket (SLC) – cricket's governing body on the island – has failed to carry out elections since 2005 and utilises a government appointed ad-hoc interim committee to operate without proper oversight.
The lack of accountability and transparency at SLC saw the chairman Somachandra (DS) de Silva appoint his nephew Suraj Dandeniya as the director of the World Cup secretariat in Sri Lanka for a six-figure (USD) pay package.
The inefficiencies of the Sri Lanka World Cup secretariat and SLC were exposed further when none of Sri Lanka's World Cup venues, which were under construction for more than a year, failed to meet the International Cricket Council's (ICC) deadline for completion. This despite, the government's full backing in providing unlimited resources and manpower.
Currently, cricket is the largest revenue generating sport on the island and its administration has been appointed by the sports minister and the president, without any transparent assessment of the qualifications of the individuals being given positions of authority. These individuals are appointed based on the fact that they were former sportsmen (cricketers) and in many cases on just the opinions of a single politician.
As a result, we hear of corruption at all levels within SLC. From food tenders for the World Cup, to various other issues relating to fiscal mismanagement, which have also been highlighted by the island's Attorney General recently – SLC is in dire need of change.
The ICC, unlike its rugby counterparts, have no laws or regulations that require member-nations to carry out regular elections, which has perhaps helped rob the people of Sri Lanka and the Sri Lankan cricket team of the success they deserve.
For, as long as corruption exists within SLC and incompetence rules there, Sri Lanka's most popular sport will struggle develop and compete consistently.