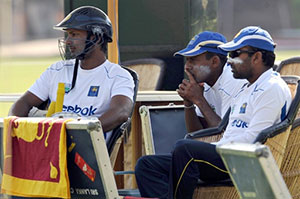 It hasn't really dawned on many in Sri Lanka that Kumar Sangakkara's first World Cup as captain could be his last. The tenth edition of the World Cup may well be the last World Cup for many others in the Sri Lankan camp as well.
When the 2015 World Cup comes around, Sangakkara and Jayawardene will be 37 and going by the principles they have set in the team – striving to recruit youth, while pushing seniors out – this scribe expects them to have followed by example and retired by then.
At 33 and 34 years of age, Rangana Herath and Thilan Samaraweera, too, are likely to be playing their last World Cup. It is almost a certainty that this will be the final World Cup for more than just Muttiah Muralitharan.
With four of their probable 11 players for the final against India on April 2 featuring in what could be their final World Cup, Sri Lanka have more than Muralitharan to play for.