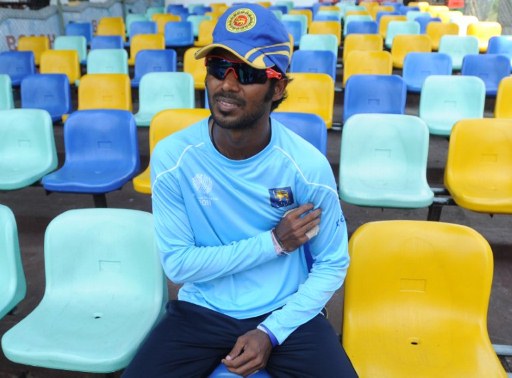 "It takes more skill, than I can tell, to play the second fiddle well", and this is an adage, I'm sure, Upul Tharanga is more than familiar with, often over-shadowed by teammates, opponents and the rain alike – most of his noteworthy performances have gone virtually unnoticed.
And yet, for a player who flies under the radar as much as he does, Tharanga does seem to have an uncanny knack for attracting quite a bit – if not more – than his fair share-of bad publicity.
A couple of years ago, he was in the news, or more specifically the gossip columns, over an alleged falling out with a fellow teammate. The truth and authenticity of these claims were never verified, and yet it was still he who was painted as the villain in most of the stories doing the rounds at the time.
While they still remain baseless rumours, in my opinion, even today, the fact that the rumours tarnished his reputation, in the eyes of many, cannot be denied. This time around, though, it was his career that was at stake.
News of a Sri Lankan player having failed a drug test during the World Cup surfaced late last month. Reports that it was Tharanga soon followed.
Amidst the allegations, accusations, stories and rumours that flew around at the time, with officials playing 'hide-and-seek' and 'tug-o-war' with the media, giving contradictory and conflicting statements at various times (so what else is new?), a promising player's career was plunged into uncertainty, with a maximum two-year ban looming on the horizon.
The eventual three-month ban that he was handed by the ICC, is an acknowledgement that Tharanga did not intend to enhance his performance, nor take it as a means of masking the use of another performance enhancing drug, and that he ingested it while drinking a herbal remedy prescribed to him for a shoulder injury.
Watching the first ODI between Sri Lanka and England, I couldn't help myself as my mind wandered back to the first ODI of our last tour to England in 2006, in which Tharanga scored 120 with the only other contribution over 30 coming from extras.
That summer of '06 in England proved to be one of his most successful to date and yet this time around he isn't even there. And while that alone is sad in itself, what saddens one more is the total lack of regard shown by SLC over taking responsibility for their part in the matter and action against those others involved.
Tharanga's only mistake in the whole episode is not having checked if the prescribed medication contained any banned substances. This, admittedly, was an oversight on his part – one that he has been duly punished for.
But what about the doctor who prescribed the medicine, is he free of all fault? And if not, why has no action been taken against him? And was it not SLC who hired him, and hence are they not partly responsible too?
The doctor in question is one of repute, who is said to have treated a host of VIPs in the country, including a number of local and international sports stars. Famed as the 'Miracle Doctor', he is said to have been hired and paid to travel with the team during the World Cup.
However, had it not been for his initial negligence none of this would have happened and Tharanga would have been in England right now – this can't be denied, for had the due care been exercised when treating him, this entire episode could have been avoided.
The key to any negligence claim, as I have been learning all semester, is reasonable foreseeability. To expect a doctor treating the national team of a country – that too at an international event – to be well versed with the list of the banned and permitted substances is not just reasonable, but in my opinion, required!
Some have compared this case to that of Shane Warne's in 2003 and said that blaming the doctor here is like Warnie blaming his mom then. To compare Warne's mother to the doctor in question is quite frankly ridiculous. To expect a player's mother to be aware of ICC regulations is as irrational as it is unreasonable.
Nonetheless, that a doctor, with a history of treating high profile sports stars in the past and hired by the board, should have been aware of the WADA rules and that attention should have been paid to these rules when prescribing medicine is indisputable.
It is here, however, that the plot thickens.
Reports that the 'Miracle Doctor' is in fact not a registered medical practitioner in Sri Lanka have surfaced. If this is true, while it means he had no authority to even prescribe the drugs in question, it also raises some other more worrying issues.
Why was he allowed to treat our players? Why did SLC give him the authority to do so? Why was the reputation of our country and the careers of our players put in his hands? Why has no action been taken against him?
These are questions that we will probably never get the answers for, especially now that the ban is just three months, and more so since it's Tharanga, a relatively low profile player. This will all most likely be forgotten in a couple of weeks, if it hasn't been already.
Yet, that a promising player's career was needlessly put at stake and almost ruined cannot be denied, my only hope now is that come August, Tharanga will mark his return to the team by finally stepping out of the shadows, and gaining the recognition that has so eluded him thus far in his career.