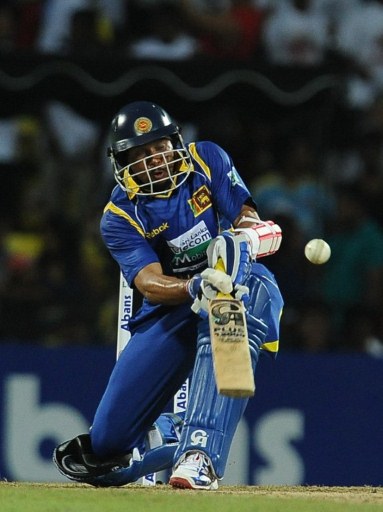 Australia were in Sri Lanka recently for the Cricket World Cup, but they last toured the island seven years ago. Therefore, their return to the island has been long awaited by locals, who absolutely adore the tough contest and confrontations that come with playing Australia.
The hills surrounding Pallekele came to life with echoes of applause from thousands; Dilshan had become only the second Sri Lankan and only the fifth international cricketer to score a T20I century.
His 104 runs came off just 57 deliveries making it the third fastest century in this format.
Remarkably, his first 50 took 39 balls, but even more remarkably he went from 50 runs to 100 runs in the next 16 deliveries.
Somewhere in the Australian game-plan was the strategy of bowling short to Dilshan. It has worked against the right-hander in the past, but this time it worked in the Sri Lankan captain's favour.
A top edge off Brett Lee for six could easily have gone straight up in the air on another day. But make no mistake, from that point onwards it was sublime, a chanceless innings filled with an assortment of delightful, innovative strokes.
"I don't know what to call that," the television commentators pondered, after Dilshan played something similar to a late cut, but with the bat turned around in his hand as if he was reverse-sweeping the ball. Even the Dilscoop came to the party.
Coupled with exquisite timing, Dilshan smashed five 6s and 12 fours, showing a full house at Pallekele that he possessed a wide array of strokes.
"[sic] Dissapointing tonight," tweeted John Hasting, who was playing in only his second T20I. Dilshan was harsh on the big fast bowler from Victoria, smashing him for four 4s in the one over. After two decent overs at the start, which conceded just 14 runs, Hasting was taken for 20 in his third over.
The 25 year old Hastings, however, can be encouraged by his performance – the two senior pros Mitchell Johnson and Shane Watson conceded 88 runs in their 8 overs combined.
"Full credit to Sri Lanka and Dilshan, who played a wonderful innings," Dilshan's opposite number Cameron White said at the end of the game. "If anyone scores a hundred off 57 balls, it will be hard work to win the game from there."
Whenever questions are raised, doubting his ability the Sri Lankan captain has shown that he is determined to succeed, proving his detractors and critics wrong. Sri Lanka will need one of its top order batsmen to replicate the tenacious Dilshan when they hope to seal the series with a win in the second T20I.