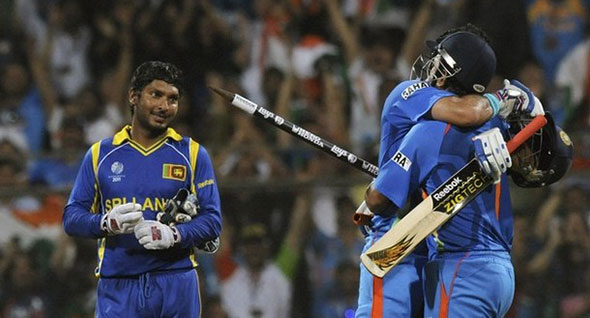 Kumar Sangkkara looks on as Indian captain Mahendra Singh Dhoni and Yuvraj Singh celebrate during their Cricket World Cup 2011 final at the Wankhede Stadium in Mumbai on April 2, 2011. India beat Sri Lanka by six wickets. AFP PHOTO/Indranil MUKHERJEE.
Sri Lanka's strategy in this World Cup campaign was certainly different. Since 1996, they have been admired for the attacking brand of cricket their batsmen played at the start of the innings and that appears to now have been lost.
Of late, Sri Lanka has not had an opening batsman with a license to score freely, without the burden of personal milestones or consistency.
With the end of Sanath Jayasuriya's reign at the top of the order, Sri Lanka has relied on Tillakaratne Dilshan to take on that role but much has changed since Jayasuriya's hayday and today what is required of Dilshan does not allow him the state of mind required to take risks and attack the opposition's bowlers right from the start.
But Dilshan is no Jayasuriya and neither is Upul Tharanga. To score more than 13,000 runs and earn a reputation in the process as one of the most fearsome strikers of the ball, scoring more than 270 sixers in his career, there is no doubt that the left hander from Matara was special – trying to replicate his successes will be hard.
However, back in the 90s, when Jayasuriya or Romesh Kaluwitharana failed, rarely would statistics be pulled up to prove that they were inconsistent. But over the last decade, the thinking behind our selection process and our strategy has changed, which hasn't helped our cause very much.
Consistency was not something that was required of our attacking openers; no one expected them to score a half-century when they went out to bat. Their job, instead, was to cash in on the fielding restrictions and take Sri Lanka close to 100 runs in the first 15 overs. What we witnessed during the final of the ICC Cricket World Cup 2011 against India was very unlike the Sri Lanka we have come to know and love.
After the first five overs in Sri Lanka's innings in the World Cup final, Dilshan and Tharanga could only muster up nine runs. Then, things took a turn for the worst when Sri Lanka found themselves at just 31/1 after 10 overs.
At the 20-over mark, the 1996 champions could only scrape through to 83 runs for the loss of two wickets, which is acceptable in ODIs but not the carnage they are known for. Eventually, both openers had perished without taking many risks or a shot played in anger.
Sri Lanka had to have known that in order to challenge India at home, on smaller grounds and good batting tracks, they required in access of 300. While the total of 274/6 was competitive, a negative mindset when fielding made India's life a lot easier in a crucial run-chase.
After Lasith Malinga provided Sri Lanka with the early breakthroughs, it was disheartening to see captain Kumar Sangakkara take the approach that he did. India's batsmen were provided with gaps in the field, which they utilised to rotate the strike and build partnerships, thanks to the defensive attitude of the Sri Lankan captain.
Sangakkara turned to the likes of Dilshan instead of his main strike bowlers, perhaps in hopes of getting through a few overs cheaply, when what was required was more wickets.
When Yuvraj Singh walked in, although a lone slip was present, the fact that there was a long-off in place, instead of a mid-off, gave Singh the opportunity to get off strike.
It is easy to be critical after the fact but this is not a new problem. Sri Lanka have always preferred to pace out their game, saving their strike bowlers for end of the run chase, rather than use them as wicket-taking options.
In contrast, sides like Australia will set attacking fields and bring on their best bowlers, when an opening in the batting line up is created. Given the slightest of chances, the Aussies will seize the opportunity to change the game and not hope that the game goes down to the wire. After all, wickets do win matches and bowling economically, saving boundaries just prolongs the inevitable.
What is disappointing is that Sangakkara in his first World Cup as captain will not have another opportunity to taste World Cup glory. He, along with several others in the current World Cup squad, is in his mid-30s and the 2011 World Cup is likely his last.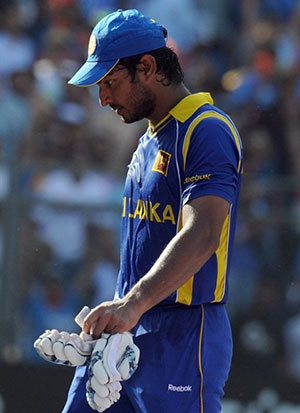 But Sangakkara now has the opportunity to put things right for the benefit of future generations. As captain of the Sri Lankan side, he can bring about the changes required to make Sri Lanka a force to reckon with come 2015.
For starters, an honest view of what the players require from Sri Lanka Cricket (SLC) officials and selectors, including criticism of their actions, maybe required in order to set things in motion. But that calls for blunt criticism, void of the diplomatic approach that he is known for, and unlike the times of Arjuna Ranatunga, where country – not career – mattered, it is unrealistic to expect such today.
In preparation for the next edition of the World Cup, Sri Lanka needs a strong captain who knows what he needs and gets what he wants. One of the responsibilities of the current captain is to groom Sri Lanka's next captain.
Seniors in the Sri Lankan camp have always aided the captain with the decision making, which makes the position of vice-captain in the team a ceremonial one – an ideal platform to groom a future captain.
The opportunity, however, has been thrown away by handing the Sri Lankan vice-captaincy to the former captain Mahela Jayawardene, instead of picking a promising youngster early and persevering with the decision.
With another chance of winnings the World Cup gone, its time for a reality check.
The advent of powerplays and Twenty20 cricket has seen teams take their scoring rate to another level but the pioneers of the strategy to clobber the new ball to all parts in the first-15 appear to be going back in time.
During the tournament, Sri Lanka showed reluctance to take risks in the first 15 overs (powerplay 1 and 2) and have opted instead to preserve their wickets for a final onslaught during their batting power-play (powerplay 3 – 5 overs).
Instead of seeing more scoring opportunities, Sri Lanka views powerplay 3 and the final 10 overs as the time to accelerate their scoring rate, which meant that their best batsmen have not been looking to attack against the new ball, or put pressure on the opposition early – a strategy which now appears to have cost them a World Cup.