Awhile back, I recall hearing Tony Greig on commentary talking about a conversation he had with a Sri Lankan batsman. To summarise what he said, Greig had asked the player what a Googly was and the batsman found it difficult to explain.
"How can you pick it, if you don't know what it is," Greig asked.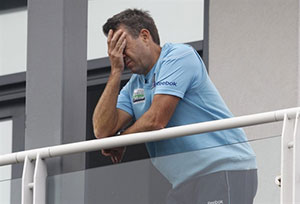 In Sri Lanka, at the school cricket level, very few coaches themselves know much about the technical aspects of the game, let alone the history of this sport. Recently, Sri Lankan captain Tillakaratne Dilshan admitted that he had no clue who Sir Gary Sobers was!
The majority of Sri Lanka's upcoming cricketers have very little understanding of the science involved in the sport, and on occasions even the rules and etiquette of the sport. There have been instances in the past where a Sri Lankan fast bowler accidentally delivered a beamer, but was unaware that he was supposed to apologise to the batsman.
When Suranga Lakmal took the new ball in the first Test against England, although he attacked the 'corridor of uncertainty', he allowed both English openers the luxury of leaving the ball often. Every new-ball bowler should know enough to make the batsman play at the new ball, and not waste it.
Furthermore, when comparing the release and the seam position of the English fast bowlers with Sri Lankan bowlers, the contrast in the basic skills of fast bowling become evident. England's bowlers can move the ball both ways at will. It is unlikely that any of the Sri Lankan bowlers on show during the first Test in Cardiff can do the same.
Bowling coach Champaka Ramanayake has been a boon to upcoming bowlers in Sri Lanka, but his fast bowling unit, in English conditions, resembled a pace attack bowling on a flat track in India. This was, after all, England; they could have made the lives of the English batsmen a little more difficult?
One also has to question the merit of having a bowling coach who is a former fast bowler, when Sri Lanka's replacements for Muttiah Muralitharan – Rangana Herath and Ajantha Mendis – lacked the ability to take wickets. It is understood that the conditions did not favour the spinners, but how much does a former fast bowler know about spin bowling to strategise and formulate a plan with the spinners, when things don't always go in their favour?
Sri Lanka should contemplate on either having two bowling coaches – one for spinners and another for the seamers – or not have one at all, allowing the head coach to be in charge of all aspects the game.
Muralitharan could spin the ball on any surface, while Sri Lanka's current crop of spinners are dependent on a spin-friendly track to provide them turn. But, there are other ways of deceiving a batsman; variations in flight and pace have proven to be deadly in the hands of a thinking bowler. However, in order to initiate that thinking process, a bowler must know what he is doing wrong, which requires the individual to be a good student of the game.
The Sky Sports commentary crew pondered over several replays of Thilan Samaraweera – an experienced Test batsman with an average of over 50 – sparring at deliveries outside the off stump, attempting to guide it in the direction of third-man. With the ball moving around, and your side requiring you to hunker down and graft due to the fall of wickets, seeing Samaraweera even attempting the shot was baffling.
But, if you've played cricket at any level, you know that all batsman attempt to compensate and adjust, when they have been beaten off the pitch outside off-stump, in order to avoid edging it – it is a reflex action.
However, a simple adjustment in the stance can go a along way in giving a batsman that extra second to leave the ball, instead of following it. As a result of Samaraweera's wide stance, he finds himself in an awkward position – neither forward nor back – when he makes contact with the ball. This is fine on slow tracks, but will expose you on quicker surfaces.
Some of the best Test batsmen, who have flourished on tracks that haven't been ideal for batting, are upright in their stance, with their feet nowhere as wide as Samaraweera's. Such a correction in technique, however, would never be suggested to a Test player in the Sri Lankan camp these days.
"I don't want to change anyone's technique," coach Stuart Law told the Daily Mail in an interview last month.
"If you want to do that you might as well coach nine-year-olds. Sri Lankans are natural players and you let them go. You might give them an idea so they have a plan, but once they get out there their natural instinct takes over…"
With a far from ideal school coaching structure, where in some cases cricket coaches are cricket enthusiast and not qualified coaches, coupled with the fact that many young cricketers come from rural surroundings, it is important that even at the national level coaches continue to work on the basics of the game.
© Island Cricket