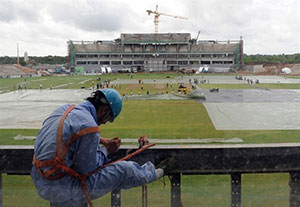 In a bungling of royal scale, Sri Lanka Cricket (SLC) officials are likely to send their team to the World Cup in conditions totally alien to them despite playing at home.
There is a good chance that Sri Lanka will play all their home games on wickets that their players have not encountered before, thereby losing all advantage of playing at home.
The rescheduled ODI tour between Sri Lanka and West Indies was the only hope for Kumar Sangakkara's men to get accustomed to the surfaces at the new venues – they will no longer have the opportunity to do so, as all three ODIs have been moved to the Sinhalese Sports club grounds in Colombo.
"The World Cup venues for matches have been officially handed over to the ICC (International Cricket Council) this month and ICC rules allow us to practice but not play until the World Cup starts," Thomas said.
Be that as it may, the Mahinda Rajapaksa International Cricket Stadium is still incomplete, according to both the World Cup director and interim committee chairman. Had the rescheduled series been played there as planned, SLC would surely have been unable to complete work at the venue before its first game at the World Cup.
Whatever excuses they conjure up for not playing in Hambantota, Sri Lanka will go into their World Cup game having never played at the venue before. In addition, wickets at the R. Premadasa Stadium and at Pallekele International Cricket Stadium remain fully untested since the Test series against the West Indies was interrupted by rain last year.
None of Sri Lanka's World Cup venues are 100% complete just 23 days before the start of the World Cup. But Suraj Dandeniya, who is Sri Lanka's World Cup director, was in an upbeat mood last week, even taking jibes at the media.
Dandeniya told Sa'adi Thawfeeq that "the mission was accomplished".
"Contrary to what certain sections of the media have been reporting in the past few months stating that the stadiums will not be ready on time, we have provided them with the answer. Our mission has been accomplished," were his exact words.
The mission is far from accomplished. The fact is that we are less than four weeks away from the World Cup with none of our venues 100% completed and now our players too have been let down badly as they will go into the competition losing the home-team advantage.