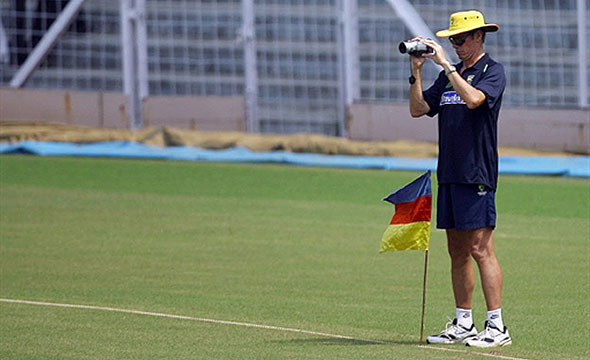 Despite millions earned in revenue thanks to the cricketers' performances, Sri Lanka Cricket can't afford a decent coach for their team. AFP PHOTO/ Indranil MUKHERJEE.
Why is it that Tom Moody, who coached Sri Lanka to the 2007 World Cup final in Barbados, can't find another Test nation that wants him as coach? How about Dav Whatmore, for that matter? He was only sought after by Bangladesh, despite a World Cup victory under his belt.
I don't mean to put any of these blokes down, but I have always been of the view that Sri Lanka has a tendency to pick up an affordable coach, who is not really sought after by anyone else but us, and the success of that coach has been primarily due to the skill and ability of the lads in the middle.
So, if an affordable coach can produce these results, what kind of results can a top coach, beyond what Sri Lanka Cricket (SLC) officials claim they can afford, produce?
An unnamed SLC official told The Island recently that SLC could not afford John Buchanan.
"Buchanan is the high profile name on that list. Generally an international coach is paid around 15,000 US$ a month. But with Buchanan you are talking of at least 35,000 US$ a month. That's way beyond what we can afford," the source told The Island.
Here is a cricket board that has made sums of over $35 million US dollars from a single tour in the past, now saying it can't afford to pay $420,000/year for a coach!
On most occasions, TV rights for an ODI series can cover what Buchanan costs for a whole year, but SLC cannot afford him? What a farce!
I believe firmly that Buchanan can transform this highly skilled and disciplined Sri Lankan unit into world champions come 2015. Buchanan knows Australian conditions, where the next World Cup will be held, better than most and he is Australia's most successful coach.
Not being able to replace the mediocre Trevor Bayliss with a highly sought after and skilled coach portrays the steady demise of our cricket, under the hands of this government appointed administration. The lavish spending and the frequent overseas travel of some SLC officials has denied our cricketers the best in the business. You have a right to be outraged!