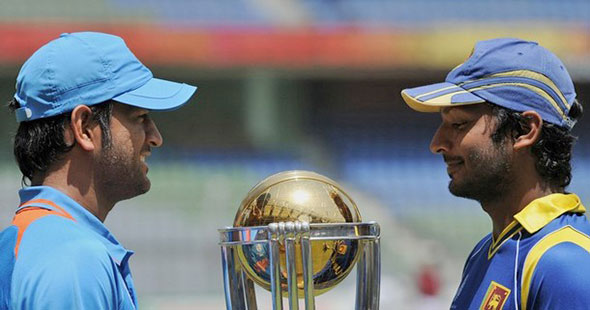 Mahendra Singh Dhoni and Kumara Sangakkara pose with the ICC Cricket World Cup 2011 trophy at the Wankhede Stadium in Mumbai on April 1, 2011. AFP PHOTO/MANAN VATSYAYANA.
Saturday's result was pretty disappointing for me, but I still managed to enjoy watching what was probably the best World Cup final since 1992. I like a lot of the Indian players and was happy that Sachin finally got to pick up a winner's medal – and do so in front of a Mumbai crowd. India were the better team both on the day and across the tournament as a whole. Their superb batting line-up was the main reason for their success but importantly they also stepped up the discipline levels of their bowling and fielding in the knockout stages.
As for exactly where the game was won, the thing that really stood out for me was the contrast between the way Gautam Gambhir batted after the fall of Sehwag and Sachin's wickets and Sri Lanka's approach in the first 15-20 overs of their own innings. On the biggest cricketing stage of all, Gambhir had the guts to keep attacking despite the early setbacks. He didn't blaze away wildly but did take take calculated risks, advancing down the wicket and hitting over the infield frequently enough to keep India up with the required run rate. That Gambhir had the confidence to do this was partly down to the fact that he knew his side had plenty of batting to come. Sri Lanka, on the other hand, seemed all too aware that in Angelo Mathews' absence, their tail was rather long and had to be shielded. While there was clearly a need for caution, I can't help thinking that Tharanga and Dilshan could have been more positive in their approach at the start.
There's been a lot of criticism of Sri Lanka's team selection by Sky and BBC pundits, which I think is largely unfounded. It seems likely to me that most of these pundits are (understandably) unfamiliar with the ins and outs of the 33 ODIs Sri Lanka had played against India between January 2008 and yesterday's final. While I might still have preferred to see Ajantha Mendis in the side, including Suraj Randiv was a perfectly rational move, given both his recent record against India and the difference between the playing conditions in Colombo and Mumbai. The slowish pitch and massive boundaries at the Premadasa Stadium were tailor-made for Mendis and Herath to choke opposition sides, while the truer batting surface and smaller ground at Wankhede would have rendered them less effective. Randiv, a taller spinner who generates more bounce, was a reasonable bet.
As for Murali's lack of penetration, a lot of credit must go to Dhoni, both for the way he played and for his decision to bat ahead of Yuvraj. I vividly remember the moment Murali dismissed Dhoni in the 2007 World Cup (in a Sri Lankan victory that knocked India out at the first hurdle), trapping him so plumb LBW that Dhoni almost seemed to walk before the umpire raised his finger. Four years and many games as Chennai Super Kings teammates later, it was clear that Murali had lost some of his zip and Dhoni had no trouble reading his variations.
I feel sad for Murali that he wasn't able to finish his career on a high but I guess he's already had his fair share of fairytale endings, both in his last international game on Sri Lankan soil and in his last Test appearance, surely the most remarkable farewell Test cricket has ever seen. I perhaps feel more sad for Mahela Jayawardene, whose innings would probably have gone down as one of the greatest in World Cup history had his side won the game.
Overall, my feeling is that Sri Lanka produced a decent, controlled performance with both bat and ball – one that didn't do enough to kill off the game but meant that India really had to go out and win it. Unfortunately for Sri Lanka, the Indian batsmen had both the talent and crucially the nerve to get over the line, none more so that Dhoni. Captain Cool has now led India to the treble of a World Twenty20 title, an ODI World Cup title and number one spot in the Test rankings. He's also led the Chennai Super Kings to an IPL and Champion's League double. The highest paid cricketer in the world is certainly doing his best to justify his wages.
An apology in order?
It seems Michael Vaughan and the BBC Test Match Special team may owe Kumar Sangakkara an apology regarding the controversy at the toss. The host broadcaster ESPN Star Sports has confirmed that Sangakkara correctly called "heads" the first time around. Dhoni misheard him, and Jeff Crowe declared that he had heard nothing at all. How Vaughan could have heard any of it is unclear to me, but he suggested that Sangakkara called incorrectly, realised Crowe hadn't heard him and therefore hoodwinked the hapless match referee into allowing him a second go. Disappointingly, Aggers, Geoff Boycott and other members of the TMS team repeated the accusation a number of times, apparently without having sought any corroborating evidence.
The Little Master and the minnows
As the dust settles on this World Cup, two questions are foremost in my mind. Firstly, when will Sachin retire from ODI cricket? I would have thought that it makes sense for him to do so now in order to prolong his Test career, but then again he may feel that 20,000 ODI runs is a realistic target. Secondly, how many associate nations will there be at the next World Cup? We'll find out the answer in the next 24 hours and I sincerely hope that it is plenty, as I love seeing some of the stars of lesser cricketing nations get the chance to shine on a big stage. There are plenty of ways that scheduling can be improved to reduce the length of the tournament without cutting the number of teams involved.