The greatest all-rounder in cricket history Garry Sobers has made it known what he really thinks about Australian leg spinner Shane Warne.
In a book released yesterday Sobers said he had "reservations about Shane" implying that Warne was overrated.


"Someone who is called great from today's game is Shane Warne, but I have got my reservations about Shane," Sobers wrote.
"I think he is a great bowler, but I'm not sure how well he compares with spinners overall. I think people get carried away with this man's ability as he hardly ever bowled a good googly.
"To me, Shane Warne is a great turner of the ball. I like his aggressive attitude, I love the way he attacks batsmen and I give him 100% for that as not enough spinners bowl with that approach, but in my estimation Subhash Gupte was a better legspinner."
Warne's career was plagued with scandal and controversy. If one recalls, he was thrown out of the 2003 ICC World Cup in South Africa after testing positive for a banned substance. He was later banned for a period of one year.
Sobers felt that Muttiah Muralitharan was a better bowler than Warne.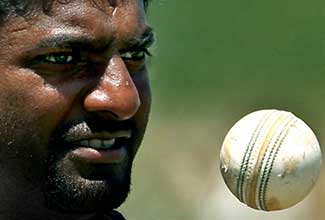 "I think Muralitharan is more difficult because he develops something that no other off-spinner has ever developed. And he bowls it well. Shane Warne bowls a leg break that turns big, a googly that you can go to sleep and wake up and see it. He (Warne) doesn't have the same kind of difficulty like Murali in destroying a batsman. If you put two new batsmen who have never seen either of the two into bat, Muralitharan will give them more trouble than Share Warne would," Sobers said in 2007.
Sobers also felt that Muralitharan's action was clean and that he was not a chucker.
"As far as what I see, it is very difficult to be able to track a ball with off break action that turns some leg to off, very difficult, you can't chuck that. Because it comes over the top, you can't chuck. You've got to bowl it.
"Muralitharan's hand is never straight and that is one of the things. He starts very close to his chest. He doesn't start like a normal bowler with arms up there where it is stretched out already.
"You don't chuck with your wrist, but you chuck with your elbow. And the definition of chuck, if the world has forgotten, is the straightening of elbow at the point of delivery and his (Muralitharan's) elbow does not straighten at the point of delivery."