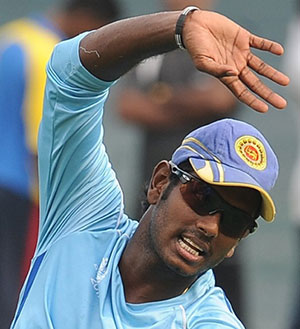 Kumar Sangakkara graciously quit the captaincy to, as said in his statement on the Sri Lanka Cricket website, "step down now as national team captain so that a new leader can be properly groomed for the 2015 World Cup in Australia," calling his resignation "in the best long-term interests of the team."
While we expected Sangakkara to step aside eventually, the decision was rather abrupt and came as a surprise. Citing both age and his desire to continue on in the side, he felt the need to relinquish the lead role.
"I will be 37 by the next World Cup and I cannot therefore be sure of my place in the team," Sanga said, later adding: "I have no plans of retirement from international cricket at this stage and subject to form and fitness I would like to be considered for selection in all three formats of the game for the foreseeable future."
Firstly, we must acknowledge Kumar's time leading the side was a rousing success. Over the next few days Sangakkara will be buried in praise, and rightfully so. But this isn't the time for eulogies of the class act's career altogether. Because like the gentleman pointed out, form and fitness permitting he plans on sticking around (same can most likely be said for Mahela as well). The youth will set in sooner or later, but the steady pair of Sanga and Mahela lasting another World Cup cycle could be important for the batting's stability.
Now, there is a pressing question at hand for the selectors: who is the next Sri Lankan skipper?
Sangakkara mentioned Tillakaratne Dilshan, Angelo Mathews, Lasith Malinga and Upul Tharanga as candidates to replace him. Sangakkara also talked about a "long-term candidate" and of the four, only Mathews and Tharanga may fit that description.
Dilshan will be 38 by the next World Cup and taking on the captaincy shouldn't be in his plans if the opener wants to keep his spot in the eleven. There are up and coming youngsters that will be breathing down his neck for a top order slot, so expect him to continue concentrating on batting.
Lasith Malinga, 28, has already ended his World Cup career citing persistent injuries. We certainly hope he'll have a change of heart if he keeps on shining for Sri Lanka, but like Dilshan, the captaincy looks like the last thing he needs. If he's not going to participate in 2015, then it simply doesn't make sense.
This would leave Mathews and Tharanga. I'm not sure about Tharanga, but Mathews has always seemed like an ideal choice. He's still ripe with potential yet to be fulfilled and he has a promising future. If Angelo is chosen, is he too young and will it be too burdening or is it the perfect fit? The captaincy is certainly in the cards for the Josephian but are we four years early?
Who do you think should lead the Lions going forward?