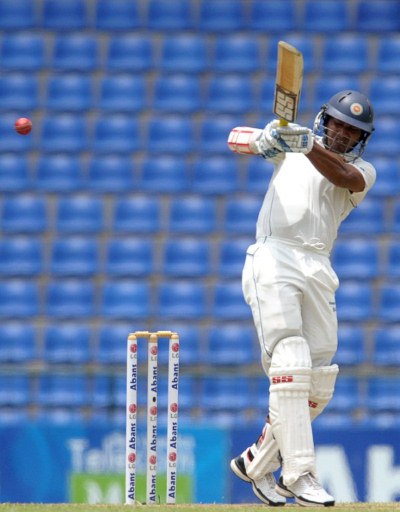 Batsmen in the Sri Lankan side who aren't strong hookers, pullers and cutters will struggle on this tour of South Africa, where the wickets are expected to offer more pace and bounce than the Sri Lankans are accustomed to.
South African quick Dale Steyn has already issued the visitors a warning,
"I'll still be going in as fast as I can, running in and trying to strike. And then we've got Morne Morkel bowling thunderbolts from 10 feet high and Jacques Kallis has been revving it up to 140km/h in domestic matches recently.

"Plus there's Vernon Philander, who's been a fantastic addition. In fact we're calling him Vernon McGrath now because he's always just nibbling the ball around.

"We want to hit areas that are uncomfortable on their bats, generally higher up their bats. We saw against Australia that the pitches have been more bowler-friendly," Steyn warned on Tuesday.
How many of Sri Lanka's batsmen are capable of dealing with the short stuff at a good clip?

Kumar Sangakkara is on top of that list. It's safe to say no other batsmen in the Sri Lankan line up can play quick bowling, in conditions that suit the quicks, better than Sangakkara. And obviously, he can hook and cut well.
"In the subcontinent, where these guys grow up, the ball hits the bat from the stickers down," Steyn

said

. "We want to hit the bat on areas that are unfamiliar for them and make them feel uncomfortable, like maybe a little higher up."
Although it is widely acknowledged that Mahela Jayawardene is in his element at home and on docile surfaces, Jayawardene relishes the pull, the late cut and the cut shot. Don't be surprised if he takes a liking to the ball above his waist, provided he is in a positive frame of mind and not looking to defend.
Tillakaratne Dilshan's only weakness against the short pitched delivery is that he either finds the fielder in the deep, or top edges the pull shot. But his century at Lord's, against a tall English pace attack, shows that he can handle the short ball effectively when he controls his aggression.
"It was pretty unfortunate that we couldn't get a full day of batting," Angelo Matthews, the Sri Lanka all-rounder, said. "But we are very pleased that the top order is in form. [The rest of us] need to adapt to the conditions very quickly if we are to perform well. The main thing we need to do is adjust to the bounce and the pace."
Not having the chance to have a bat before the first Test maybe a worry for Angelo Mathews; he however, being a good puller and solid in his technique, is also well equipped to hande the conditions.
Apart from the four mentioned above, Prasanna Jayawardene – from time to time – shows us that he relishes the horizontal bat shots, and will likely enjoy the ball coming on to the bat.
The South Africans may not find Sri Lankan batsmen an easy pushover after all.