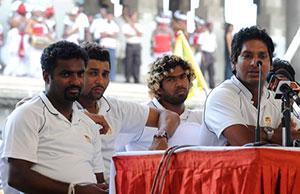 A mere week and it feels like everything has fallen to pieces… what last week represented everything that was joy, pride and hope… Today stands – if I may oblige my dramatic tendencies – engulfed in a cloud of resignation, immersed in a sea of confusion and spoken of with an air of despair… And yet, in doing so, I wouldn't be too far from the truth either.
It was only last week that the Sri Lankan team lost the World Cup… They had done well up until then in the tournament… Everything seemed to be finally coming together; the pieces falling into place.
Kumar Sangakkara, with three half-centuries, inclusive of a score of 92, one century and two 40+ scores, had performed consistently throughout the tournament, whenever he'd gotten the chance. Add to this an average of 93, 14 dismissals and impressive captaining, and you had yourself a captain in form.
Tillakaratne Dilshan, had commendably managed to, somewhat, curb both his flash of arrogance and touch of impatience to score two centuries, two fifties, and become the highest run-scorer in the tournament, while forming the most successful opening combination of the tournament with Upul Tharanga
Upul Tharanga, with two centuries himself, was the first to reach 50 x 4s in the tournament, and seemed to be fast-becoming Sri Lanka's Rahul Dravid, with a one teammate or another over-shadowing most of his noteworthy performances.
Mahela Jayawardene, Lasith Malinga, Angelo Matthews and Muttiah Muralitharan and the rest had all performed at various stages in the tournament, as and when the need arose.
So, the big names were performing, the spirit on the field looked good; three of the top five batsmen in the tournament were Sri Lankans.
Murali had bid adieu to the home crowd with a wicket off his last ball on home soil, and despite some misgivings concerning the middle-order, and some injury worries in the lead up to the final, the belief and hope that they would win remained within the team and the hearts of every Sri Lankan supporter.
It wasn't meant to be however… And they lost… To a team that, on the day, just outplayed them.
It wasn't a squash-ball this time around…
It wasn't a bad day. Scoring 274, after the slow start we got, getting Sewhag out for naught and Tendulkar for less than 20, cannot be considered a bad day…It just wasn't OUR day…
And if my heart broke when we lost, Sanga's speech at the end warmed each and every fragmented piece of it and made it glow with pride. If the welcome they received on their return home is anything to go by, not many felt differently and the country as a whole was proud of them, despite the loss.
And yet, in the last week, there have been murmurs of political interference in the game, whispers of the players having been pressurised to lose the match, rumours of politics having played selector.
Whether these are true or not , or if they are founded on hardcore facts and inside information – I'm not quite sure… Nor do I have the authority to know but what can't be denied, what the decisions and statements of those within and close to the team leave no room for doubt, is that all is not wel.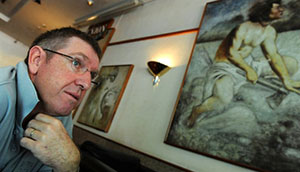 Outgoing coach, Trevor Bayliss, has revealed that the players had to contend with "distractions" thrown at them off the field, and that certain key players had probably had enough of putting up with these "distractions".
The decisions of both Kumar Sangakkara and Mahela Jayawardena in the wake of all this, also make it hard to think otherwise.
On Tuesday, the man who was chosen to lead the World Cup 11, even over World Cup winning captain MS Dhoni, the man who won the hearts of so many with the way he carried himself, with his graciousness even in defeat, Kumar Sangakkara handed in his resignation. His good friend and vice-captain Mahela Jayawardena followed suit, the selection committee, too, soon after.
The reasons sound well thought out and plausible. Acceptable even. And yet, the timing raises questions.
Why, if this was a decision he made even before the World Cup started, and was going to go through with irrespective of the result, did he wait until Tuesday to announce it?? Why was Mahela so quick to quench any ideas of reinstating him as captain, by resigning too? Why did all the resignations take place one after the other, on simultaneous days??
Sanga and Mahela being who they are, it isn't surprising that they would do this but why now when there is no apparent successor? Had Sanga stepped down in two years, I would have understood but why now?? For all his assurances that there will be no 'leadership vacuum, he must know there is no one ready to take his place?
Anyone who's followed Sri Lanka cricket over the last few years will know, that Dilshan for all his flamboyance and good performances, is however not captaincy material. Besides, giving it to him would go against the very reason Sanga so adamantly 'claims' is the one behind his decision, as he is older than Sanga.
Angelo Matthews is still too young. Giving him the captaincy now, will be to do to him, what was done to Mahela in 1999. That just leaves Upul Tharanga. Sanga had mentioned Lasith Malinga, too, and yet, somehow, but for a bold move from the new selectors, I don't see either of these happening. In a way, I'm not sure if it's a good thing or a bad thing.
It doesn't make sense that after making it to the finals, that we're in such disarray. This is the kind of chaos you'd expect of a country that failed even to reach the second round, perhaps losing to minnows. Not of the second best team in the tournament. Somehow the pieces just don't fit.
In retrospect, looking back, one does wonder if Sanga's sad smile as he watched Yuvi and Dhoni celebrate, was one of resigned acceptance, or if it was just the realisation that they were beaten by a team that played better on the day, (I know I keep repeating 'on the day', but that is what I truly believe, I have no doubt that we are generally as good as they are!), I guess we will never know… It is a question only he can answer.
The fate of our cricket remains to be seen. While I must admit that, I might feel the inclination to 'resign', too, if Dilshan is made captain. Personal vendettas aside, that he or whoever else it is that gets it, proves their detractors wrong and leads the country well and takes us from strength to strength is my only wish… It is all I can hope for.