To: Inspector General of Police (IGP) Mahinda Balasuriya – Sri Lanka Police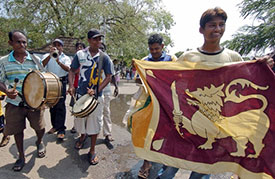 Ban the Ban on Papare Bands, Banners and Alcohol at Sri Lankan ICC WC 2011 Cricket Venues Sri Lankan cricket fans are being cheated for their buck.
Security measures that were not in existence even during the brutal war we endured as a nation, have now been put in place, ruining what should have been one of the most exciting spectacles for Sri Lankan cricket fans – our chance to host the ICC World Cup.
Despite war and political turmoil in our blessed homeland, cricket matches have, for decades, provided us with one of the safest and unifying means of relaxing and unwinding, over a beer, 'bites' and good humoured singing along to Papare with other Sri Lankans who love The Team and The Game. The good spirit, sportsmanship, friendliness and cheer of Sri Lankans are known the world over, and cricket matches played in Sri Lanka have their unique flair because of the "Nava gilunath baan choon" (crudely translated as "even if the ship sinks, we will continue the party") attitude of Sri Lankan spectators, who continue to party from start to finish, regardless of the result of the home game.
What reflected our cheery attitude to the world, were the colourful, loud and cheery ways we Sri Lankans enjoy our cricket, even, or rather especially, at the MCG – home of The Murali Haters. The whole point of a fan opting to attend the match instead of watching it at home on TV, where they can easily and more comfortably follow the game, is to experience the atmosphere and energy and share the sheer excitement of other fans firsthand, where there is noise, song, dance, street food and drink.
(1) We believe that it is the right of every spectator at a sports event, to express their support and encouragement for their team and their disdain for the opponents using visual and oral cues. Banning banners is a ban on free speech.
(2) We believe that it is the right of every spectator to relax and unwind in a safe manner at a sporting event, and banning alcohol is an attack on those who work hard during the week and wish to enjoy time with friends and family at their leisure, which is a safer and more controlled consumption of alcohol, with the alternative being the miserable downing of an entire bottle (or two, or even three) at home in front of the kids if the match goes awry.
(3) We believe that it is the right of every spectator to be allowed to enjoy their time at a sporting event for which they paid money to attend, with other fans who have the same goal of supporting their team towards victory. Spectators should be allowed to decide the safe means by which they will enjoy their game which they paid to attend rather than staying at home watching it on TV, in a calm, collected manner. If they wish to sing songs of or about victory, they are free to do so. If they wish to indulge in tipsy dancing to express their joy, they are free to do so. Banning the time-honoured "match music" is a ban on expression and enjoyment of those who wish to dance and sing.
(4) Better Papare than Vuvuzelas, which incidentally were not prohibited during the FIFA world cup, though they have been known to cause hearing problems, distraction and intense irritation in general.
(5) The last time we checked, fans did not attend sporting events in order to have their fundamental rights violated.
(6) It is not the job of The Police to ban harmless fun and violate our fundamental rights. Rather it is their sacred duty to intervene if harmless fun goes out of hand, which rarely happens during the "baan choon". Instead of making their lot easier by disappointing the public they are supposed to serve, they should be doing a better job by being alert, coordinating, apprehending and ensuring justice in case something does go wrong. Cops should do their job instead of looking for an easy way out.
Please sign this petition, and invite all fans of the wonderful game regardless of nationality, to do so if you agree with the above. Together we can overturn this blasphemous decision to cheat cricket fans of their buck!
Sincerely,
The Undersigned,
http://www.petitiononline.com/wc2011sl/