By in large, the series between Sri Lanka and Pakistan will certainly be unique one. For one, this is the first time a full tour is played on a neutral country and the other has to do with the similarity of the issue both these sides find themselves in.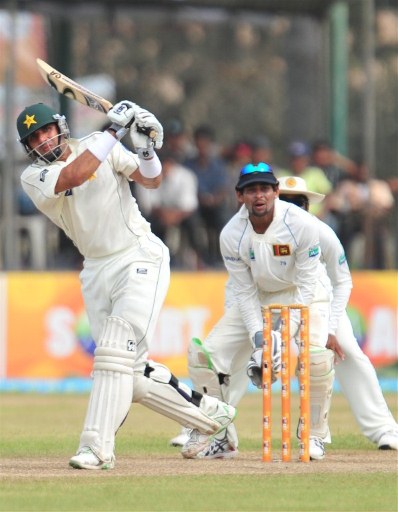 Both sides are not short of talent. Their brand of cricket is based on real flair and charisma which has captured the imagination of many around the cricketing world. They both have made great cricketing strides and have the trophy cabinet to prove it. But they, more than any other cricketing nation (other than Zimbabwe), have been tormented with the same sets of affairs which have defined their cricketing identity and grazed it with controversy and turmoil.
Very few will disagree if I said that both Sri Lanka and Pakistan have had the most tribulations in cricketing administration than all other cricketing nations combined.
Pakistan slightly edges Sri Lanka off in all fronts and their issues on the field and off it has almost become the modern day reincarnation of cirque du freak.
Match fixing, ball tampering, player behavior and media outbursts have been so frequent that nothing seems to surprise anyone anymore. They made for a great April fool's day headline this year, that many of the most fact-based and the articulate were made fool's of.
Sri Lanka, on the other hand, has not had the same amount of media exposure like their counterparts but certainly have not lacked behind in their appetite for the wrong headlines.
SLC had many different interim committees and selection panels that you begin to lose count. The number of team managers seems to change with each tour and the scale of corruption plaguing SLC has been quiet freighting. Reports of over the top spending, bankruptcy and selection issues are some of the familiar tales we have grown to anticipate from Sri Lanka Cricket.
When you think you've seen and heard it all, they still seem to have an Ace up their sleeve to leave you awe struck.
One of the main reasons contributing to such inconsistency is the respective government's interference in cricketing matters. Sri Lanka and Pakistan are two out of the four test playing nations where their cricket boards are state subsidiaries. Any and every decision by the board of cricket has to be state sanctioned. Of course, once politics is involved in sports the outcome has never gone too well for sports.
It has become so infuriating that it has even inspired the ICC decision to introduce independent cricketing governing bodies to run the game from 2012/13. Although it remains to be seen as to what degree ICC is prepared to lay down the law on the matter of non adherence. Nevertheless, you would expect the cronies who govern the dark allies to find a way to trump even the most stringent of laws. They might already have.
The flaws in administration have eventually filtered down to cricket and its plain to see. After the resignation of captaincy by Sangakkara, Sri Lanka has not looked a settled side. Muralitharan and Vaas's retirement and Lasith Malinga's 'Test retirement' has not helped their cause in no ends. But what has always been their strength, their batting, has let them down in more than one occasion.
Other than a couple of scintillating displays by the evergreen Jayawardena and Sangakkara and also the up-and-coming Angelo Mathews, Sri Lanka has failed to click as a batting unit in a single innings since the Lords Test match.
Dilshan, for all his positives, has not had the same level of machismo to pull the side together as Jayawardena or Sangakkara. Rumesh Ratnayake's ill fated coaching stint has ended and Ajantha Mendis's mystery injuries and selections have dumbfounded the general public. Not the greatest preparation you would need for a high profile tour.
Pakistan, who are also in a in an intermediary tone, have appointed Misbah Ul Haq as their captain, to the dismay of former players and the cricketing community. They did well in Zimbabwe with a young side but with all due respect to Zimbabwe, it was never a contest.
Waqar Younis has resigned as head coach and Shahid Afridi has been stripped from the captaincy. They have dropped the highly talented of Umar Akmal and replaced him with the controversial Shoaib Malik.
On top of that, the biggest match fixing trial in crickets history is also currently in motion and Pakistan finds themselves in the middle of it all. Again, not the greatest preparation for an important tour as is this one.
But the uniqueness lies in the imperfections. Both teams don't have the greatest administration, both have been stained with controversies, and no real form coming in to the series. They are both flawed and damaged but anyone writing these two sides off will be a fool to the boot. They will excite you with their flair and also make you weep with their failures. What more can you ask for in sport entertainment?