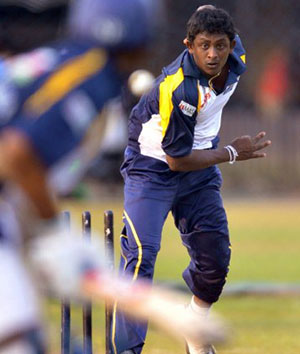 After arriving in Taunton as a replacement for Somerset's Murali Karthik, a lot was expected of Sri Lanka's 'mystery spinner' Ajantha Mendis but the 26 year-old was far from convincing.
Former captain Kumar Sangakkara's horses for courses policy has, more often than not, left the spinner from Moratuwa out of the Sri Lankan side against opposition that the skipper and selectors felt had mastered the bowler.
Struggling to hold on to his place in the side, and with his confidence dented as a result, Mendis has failed to reproduce the magic of his debut Test series, where he scalped 26 wickets in a three-match series at 18.38 apiece against India, breaking Sir Alec Bedser's record for most wickets in a debut Test series.
It's not practical to expect a bowler to be successful against all opposition. Even the great Muttiah Muralitharan struggled against certain sides, but it was not Arjuna Ranatunga's policy to leave his match-winning bowlers out against some teams because they played them with more ease than others.
Mendis' omission from the World Cup 2011 final, despite a fairly decent performance from him in the tournament, would have dealt a serious blow to the bowler's confidence. The policy of leaving him out against India has not given him the opportunity of making a comeback against their batsmen. And such a policy cannot be logically sustained; when does the captain or the selectors decide that he is ready to play teams from the sub-continent again?
Selection should perhaps be on merit, based on recent form, and not based solely on a player's record against any one opposition.
Patience and perseverance are notable attributes in great captains. They were qualities displayed by the Australian selectors and their captain Mark Taylor during Shane Warne's formative years. Warne went for plenty in his career against sub-continent teams and had Australia utilised a horses for courses policy, there would be no Warne.
Playing for Somerset in the LV County Championships last month, Mendis was expensive and bowled far too short and on both sides of the wicket. He was not the same bowler TV commentators raved about back in 2008, when they highlighted his amazing accuracy as one of the keys to his success.
With Warwickshire opener Varun Chopra cashing in on long-hop after long-hop from a jet lagged Mendis, who had only arrived in England the night before his county debut, the Sri Lankan was left looking demoralised and embarrassed after just his first day on the field for Somerset. Up until that point, Mendis had never conceded more runs in an innings in his career. He finished with 4-183 in his very first county appearance.
In his final first-class match for Somerset, before being dropped, Mendis conceded 102 runs in his 23 overs. He has, since then, linked up with the touring Sri Lankan side who are on their 2011 tour of England. And in their tour opener, a three-day warm up match against Middlesex, Mendis was again dishing out loose deliveries.
Sri Lanka does not have the luxury of picking from a vast pool of match-winning bowlers. Therefore, they should handle with care the few that they possess.
They, however, inexplicably resigned to the myth that Mendis was conquered and dealt a blow to his morale by leaving him out of crucial matches against batsmen who may have got the better of him in previous encounters.
The retirement of Muttiah Muralitharan and Lasith Malinga has left the new captain Tillakaratne Dilshan with a fairly inexperienced bowling attack for the Test series in England. Ironically, Sri Lanka is now relying on a bowler whose confidence has been heavily dented thanks to their own short-sighted policies.
© Island Cricket/Hilal Suhaib