There was utter chaos in front of the Sri Lanka Cricket headquarters this morning (07 Feb 2011) as fans were mislead by the authorities that there would be World Cup tickets issued at 8.30 AM. Apparently, this was only an issue of reserved tickets, but not the Rs. 100 and Rs. 50 ticket, which are the only ones that are left right now, according to a Sri Lanka Cricket official.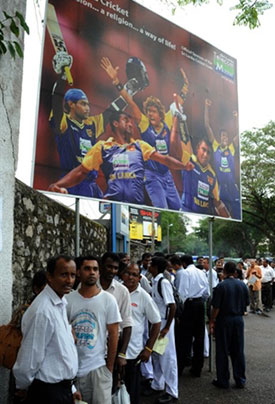 The news was actually given out by Sri Lanka Cricket over the last few weeks as fans have been inquiring over the phone and physically at SLC headquarters. There was a notice at the entrance of the facility instructing to ask the security guards for any information regarding ticket sales and when asked (On Sunday) they confirmed that tickets would be issued on the following day.
Around 200 fans were present at the location at 8:00 AM this morning in hopes of securing at least Rs. 50 or Rs. 100 tickets. Some officials inside the headquarters seem to be panicking and a few security personnel were sent out to form a line to hand over the tickets without a fuss. Then, more security guards appeared and started talking to the fans saying that the now-precious rs. 50 and Rs. 100 tickets were not going to be sold today – the fans immediately protested, as they were told over the last few weeks about the issue of those very tickets.
Right by the entrance and behind a small row of security guards, a few worried officials were seen giving the guards instructions while the fans started to get restless as the starting time of the supposed ticket sale passed by.
Then, one of the official while still hiding behind the row of security personnel barked out that there would be no issue of the tickets and that a notice was put on today's newspapers regarding the matter. The fans immediately protested and pointed that they were mislead and as a reason have lost their time and money.
The officials there mentioned another date of issue and the fans started demanding some type of certification from the officials to make sure that they got the tickets and officials present refused it straight away. After another 5 to 10 minutes of hopeless hovering behind the big security guards, a Sri Lanka Cricket official agreed to step out and talk to the fans.
As he stepped out of the door the fans who were disappointed and quite angry pulled out their phones and started taking videos and the official straight away asked them to take those away.
The fans protested loudly supported by the crowds behind and held their cameras.
The official said the following in Sinhalese (although there were many foreigners present)
"There will be no issue of Rs. 50 and Rs. 100 tickets today. Only the tickets which were reserved previously are going to be issued. If you are present to buy the Rs. 50 and Rs. 100 tickets, we have to say that you have been mistaken. You can only buy those tickets 7 days before a game."
Amidst loud protests he stormed in followed by the security guards and that was that.
As I was leaving the fans were still at the entrance demanding the tickets, but it didn't seem like they were getting them. It is not clear whether there was an actual issue of these tickets or Sri Lanka Cricket authorities confused those with reserved tickets. But, somehow, due to their disorganized and inefficient behaviour, many fans lost their valuable time, money and hopes!
Some fans even pointed out fears of cricket officials keeping the tickets to sell at higher prices or that they have shared the tickets among themselves for their families and friends.
Even though the above reasons are quite negative and far fetched, I won't be surprised if they turn out to be true knowing how corrupt Sri Lanka Cricket officials are. Many foreigners who were present seemed to be clueless of what was happening and looking for translators helplessly, which was a very sad thing to see.
All in all it was a shame to the administration of cricket in this country and such events must be avoided in the future. A misunderstanding of this sort on a game day can cause riots among fans. And in order to host an event like the World Cup which starts this month, the SLC officials will have to put in a bigger performance for the money they are being paid.
The fan is the heart of any sport and they must be treated with respect and care. Today they were treated like dirt by the very people who are there to serve them and protect and improve cricket in this country.