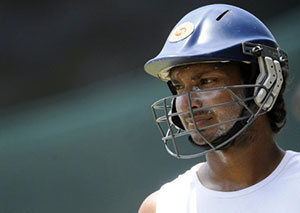 The ICC People's Choice Player of the Year, youngest MCC Spirit of cricket lecturer, former Sri Lankan captain and currently the fifth best Test batsman, Kumar Sangakkara will reach a very important landmark tomorrow. He will become the 51st international and fifth Sri Lanka cricketer to play in a 100 Test matches.
Being a part of a century of Test matches is a proud moment for all cricketers and it will be no different for Sangakkara. When he made his debut for Sri Lanka in the year 2000, against South Africa at Galle, he surprised many, as he was selected ahead of first choice wicket keeper-batsman Romesh Kaluwitharana. Since then, his consistent performances have earned him a permanent place in the Sri lanka side. In his decade long career, Sangakkara has not only been one of Sri Lanka's best batsmen, but also one of the finest left-handers in international cricket.
But this is not a player profile for Sangakkara, this is just my tribute to one of my favourite batsman on reaching the 100-Tests milestone. I consider myself to be one of Kumar Sangakkara's biggest fans and over the years have watched Sri Lanka's matches just to see him bat. There is something special about watching a left-hander bat, southpaws have a a very stylish batting technique, and Sanga has always been one of the most entertaining batsman to watch, especially when plays his trademark cover drive. And I am not saying it from a prejudiced fan's perspective his statistics speak for themselves. Sangakkara has scored 8572 runs in his 99 Tests so far with an average of 55 and 25 centuries to boot. He also has the distinction of having the highest batting average at Number 3 position after the legendary Sir Don Bradman, in fact Sanga only has the highest average after him, but he also has the highest score at the number three position when he scored 287 in a record-breaking Test versus South Africa. He scored his first Test century against India in 2001, a knock which led Sri Lanka to a 10-wicket win. He handed over his wicket keeping gloves in 2006 and since then has been a specialist batsman. On the 6 December 2007 he was named as the new Number 1 batsman in the LG ICC Test player rankings with a rating of 938, the highest rating ever achieved by a Sri Lankan player, and became the first batsman ever to score in excess of 150 in four consecutive Tests.He holds the record for fastest 8000 runs (152 innings) in Test cricket. He broke the previous record set by Sachin Tendulkar.
In the past 10 years Sanga has been part of more than one iconic moments in Test cricket playing some of the most illustrious innings. But I am partial to two particular centuries, against South Africa and Australia, two of the best teams in Test cricket. In 2006 he probably played the innings of his life when he was involved in world record breaking partnership with close friend Mahela Jayawardene adding 624 runs together, the highest in Test cricket for any wicket. And this against a South African attack boasting of dale Steyn and Makhaya Ntini. The next year Sanga scored, by his own admission, the best century if his career against Australia when he scored 192 at Hobart. He may have gone on to score many more had umpire Rudi Koertzon not given him out to a wrong decision.Watching these two innings and then again watching them repeatedly makes for intense viewing pleasure.
As he plays his 100th Test tomorrow at the SSC, I sincerely hope to be able to watch one more of his best and stylish as always innings. Sanga, here is wishing you all the very best for your landmark and I and all your fans hope to see a very special knock from you tomorrow!