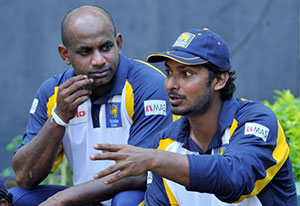 Sanath Jayasuriya spoke with the Deccan Herald recently and the old fellow is still pretty bitter at being left out of the World Cup 2011 squad. Not only is he bitter, but he really lets his feelings be known about a certain current player in the team, who he feels was instrumental in ending his career in such a unglamorous fashion.
"It was disappointing not to play in this World Cup," Jayasuriya concedes in a chat. "People like the then chairman (Aravinda de Silva) said the team picked for the competition was the best team that could have been selected. Yes, I am disappointed personally for not having played in the World Cup, and I know it was very disappointing for the Sri Lankan people when the team lost in the final.

"At the interval, we all felt the team had a great chance of winning the title. When you have 270 on the board in a Cup final, it is as good as having the game in your hand. But I don't think the defence of that total was planned properly, and I feel the bowlers were not used properly."
After having a go at Aravinda de Silva, he says "the bowlers were not used properly", which sounds like him taking a swing at either Kumar Sangakkara, who was the captain at the time, or the former coach Trevor Bayliss. But the murky water settles a little later, as he is referring to a current player.
"These are the people you have played with for a long time. Sometimes, when people who you have played with hit you in a different way, it becomes hard to digest. They have their own articles to write, and if they have something to say about you, they don't do it straight up but go in a roundabout way in their criticism. That hurts. That's something I will never do. But I have played enough and been around long enough to be able to take it in my stride. I feel if you want to make a point, come out in the open and make it directly," he continues, leaving no one in any doubt which current players he is talking about though he pointedly chooses not to come up with names.
Who do you think the MP is referring to? In my opinion, it sounds like he's having a go at Sangakkara. What do you think?