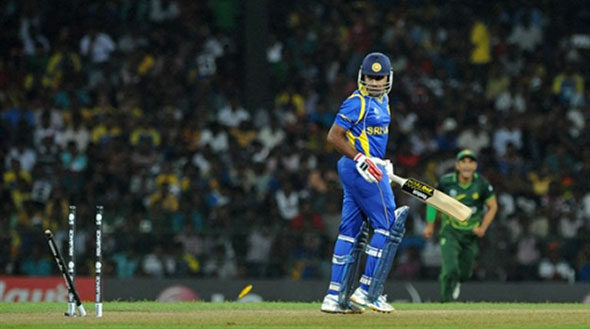 Mahela bids his middle stump goodnight before he walks back to the pavilion. AFP PHOTO/Lakruwan WANNIARACHCHI.
It would take a very brave man to still consider Sri Lanka as favourites to win the tournament after their defeat against Pakistan on Saturday in the ICC Cricket World Cup Group A match played at Khettarama.
The scorecard may fool you; make no mistake, the only reason the match got as close as the last over and 11 runs was thanks to shambolic Pakistan, who missed stumping chances, run outs and catches – not because it was a closely fought contest.
A day off from the cricket because of back pain is not even the type of pampering pansies in the English camp will be accustomed to.
Imagine if we could stay at home from work every time we had muscle pain?
Lasith Malinga was not injured. He didn't have a tear or even a sprain. He had some soreness in his back. Fit enough, in fact, to play against Kenya in Sri Lanka's next match but not against Pakistan on Saturday.
Sri Lanka would be better off bringing Dilhara Fernando back into the side and getting him into some rhythm now than count on Malinga.
If Malinga is an important cog in our World Cup machinery, he shouldn't be missing any games. If he can't play because of a back strain in this day and age of modern medicine, where a pain killer is all that's needed, let him play in the IPL and allow Sri Lanka to find someone more reliable and willing to make sacrifices for their country.
I wrote in my last blog post about our weaknesses in the batting department. Those problems have now been compounded with Tillakaratne Dilshan and Upul Tharanga batting like it was 10 minutes before the close of play in a Test match.
Perhaps its time to send Mahela Jayawardene up the order. He is inefficient against anyone but the minnows in the middle, so there's nothing lose, is there?
The bitter truth is, Sangakkara can only rely on Angelo Mathews in this batting line-up. With just two reliable batsmen (Sangakkara and Mathews) who have reliable techniques to counter pace and spin consistently, Sri Lanka are anything but favourites in this tournament.
The one thing they had going for them before the start of this tournament was their bowling attack but that too is largely dependent on two bowlers (Malinga and Muralitharan). One, doesn't like playing with a bit of pain and the other, has become so miserly at the end of his career, you can only count on him these days to bowl economically – not attackingly as he was once famous for.