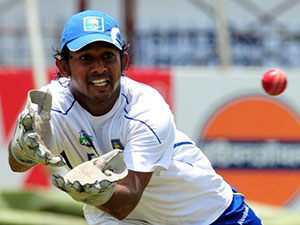 Not at all the right time to bring out this topic, especially when the guy has just returned from England after grabbing the Sri Lankan Man of the Series award in the Test series. But, of late, the extent to which he has failed to live up to the title of being, arguably, the World's Best Wicket Keeper has become so vast that I couldn't resist writing this up.
When Jayawardene first appeared in the scene, the only problem he had was the lack of adequate batting skills. The selectors at that time were convinced that they have to go in with the best wicket keeper around, no matter how lowly skilled he is in terms of handling the bat (which is, of course the right way to go in Test cricket). But I have to say, Jayawardene has worked hard since then, and has developed an attacking style of play which is now bringing him runs.
During our disastrous Australian tour in 2007, in which we played only two Tests, one of the very few bright spots we could be proud of was Prasanna Jayawardene. He managed to impress and even surprise the Australians with his then superb wicket keeping skills. The way he contributed to the dismissal of Ricky Ponting in the first Test made him receive the warmest of applauds from the cricketing stalwarts who were watching.
Jayawardene then went on to complete a few Test series without much fuss; he held on to whatever came his way while he was behind the stumps, and was doing okay with the bat as well. And then, an injury forced him out of the Test Series of the Pakistani tour of Sri Lanka in 2009, in which Tillakaratne Dilshan took up the responsibility of donning the gloves. The appointment of Dilshan as the keeper for that series was a surprise, given the tendency of our selectors to go for the best wicket keeper around, but we will leave that for another day.
It's after this injury that Jayawardene started to lose his flair as a top class wicket keeper. He was steady in the New Zealand in Sri Lanka 2009 Test series, which was his comeback series after the injury. But in Sri Lanka's next assignment, things started to unravel for Jayawardene under the sapping Indian heat.
His first major mishap came in the second Indian innings of the Ahmedabad Test, when he let through a Virender Sehwag nick between him and first slip. Sehwag was on 11 when that happened, and he went on to score a rapid half century which took away the momentum from the Sri Lankans. India went on to secure a comfortable draw, in a match where Sri Lanka held the upper hand most of the time.
Things got worse in the second Test at Kanpur. In the very first over of the match, Jayawardene, clearly having the Sehwag let-off in the previous match at the back of his mind, went diving across in front of the first slip to grab a catch off Sehwag's bat, only to make a mess of what would have been a straightforward chance to the slip fielder. Sehwag hadn't scored any runs at that time, and he went on to smash a fiery century (131) and put up an opening partnership of 233 with Gautam Gambhir. India never looked back from there on, and crushed the Sri Lankans by an innings and 144 runs.
These two instances clearly proved that Jayawardene was having problems with judging the catches coming his way (i.e. whether he should go for it or let the first slip take it). Similar to a batsman's off-stump awareness, this is one asset a wicket keeper (even an average one) should necessarily possess, but Jayawardene was losing this awareness, as he proved in later series.
He couldn't escape unscathed from the third Test of that series, too, missing a simple stumping chance of Yuvraj Singh. The consequences of that miss were not that significant as Yuvraj perished soon after trying to up the ante, but the fact that all these incidents took place on the flattest of tracks, where even half-chances were very hard to come by, heightened the problems the Sri Lankan wicket keeper was having.
I'm not saying it's because of Jayawardene that we lost the series (2-0 with two innings defeats), but he certainly played a huge role in that debacle. Yes, he scores runs with the bat, but he didn't do correctly the job people were expecting him to do.
When India toured the island in 2010, Jayawardene again carefully chose the flattest track on offer to make his now becoming-a-habit mistake. Dropping a catch, a straightforward one, on the featherbed at SSC is an absolute sin as we all know. So how about dropping Tendulkar, before he is set, and he goes on to score a double century? Jayawardene did just that. And in the context of the game, at a time where Sri Lanka were holding the upper hand while India were trying to fight back after some quick wickets, this drop was unforgivable.
India went on to secure a draw after matching and then going over Sri Lanka's mammoth score of 642/4d. Sri Lanka would have got themselves into a potentially winnable position had Jayawardene held on to that relatively simple chance, but sadly it was not to be. The series was drawn after India went on to win the third Test.
In the recently concluded series, where Sri Lanka tasted a 1-0 defeat at the hands of Englishmen, Jayawardene again showed that his judgment of catches is clouded. The Lord's Test gave way for him to almost do a repeat of his encounter with Sehwag.
First, he let Matt Prior place the ball in between him and first slip, and then he almost managed to dive in front of first slip and eat up the chance which was going straight at the slip fielder. Luckily though, this time Paranavitana at first slip wasn't distracted by Jayawardene's acrobatics, as he managed to hold on to the chance provided by Graeme Swann.
The Sri Lankan wicket keeper came back home with a prestigious award from that series, deservedly as well, but he continued to prove that he was going down the hill as a gloveman. His batting has improved a lot during the years, but one tends to think Sri Lanka would have been better off with that excellent wicket keeper they had some time ago in Jayawardene, at the expense of his batting skills.
People can argue that there aren't even a handful of missed chances in the previous three years, but as I have clearly pointed out, the magnitude of those misses are so high that they can fill up the space of a million misses. Arguably, those mistakes cost us matches, and with that whole series.
Also, people can say that all international glovemen do similar sort of mistakes at a similar frequency. But I challenge them to provide a single wicketkeeper who has been competitive with Jayawardene in terms of hugely significant and consequential drops (apart from Kamran Akmal of course).
Okay, let's forget about Jayawardene being the best in the business in the world, but he should at least be the best Sri Lanka can come up with. Considering what he has to offer to Sri Lankan cricket right now (in terms of what he does behind the stumps, not with the bat), I can see no other option, but to look for other options.