Unless an absolute miracle transpires, when we go out to bat during our second innings, Sri Lanka are all set to lose the first Test against Australia at Galle. It seems inevitable given our batsmen's recent record.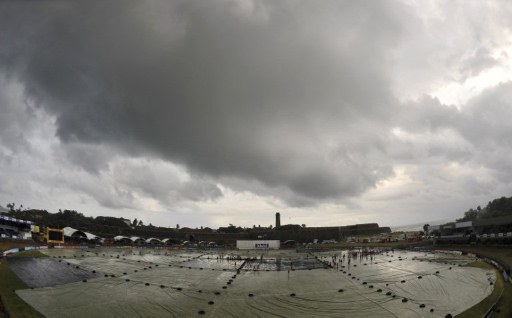 Galle was once Sri Lanka's stronghold. In the past, only the fool-hardy would predict anything but a victory there for the home team. That has all changed.
Sri Lanka's batting today relies entirely on Tillakaratne Dilshan, Kumar Sangakkara and Mahela Jayawardene – all three have proven to be extremely unreliable and inconsistent of late, while favouring the wealth generated by the IPL, over representing their nation whole-heartedly.
I'm sure no one needs to be reminded but when duty called for their mother-land they hesitated. They were expected to tell their IPL franchises, as per their contract, Sri Lanka came first. They did not. Instead, they argued that Sri Lanka Cricket had made assurance to their pay-masters in India and they were going back on their word. That, cricket fans, is the truth. A fancy lecture at Lord's, pointing fingers at others, can't obscure the facts.
If rain doesn't save Dilshan and Sri Lanka, a small matter of close to 300 runs or more will be required to prevent defeat. If you follow this Sri Lankan team closely, you won't be putting your money on them. Not unless you are a ridiculously deluded patriot – we have many of those.
Skipper Dilshan's dismissal in his side's first innings cannot be ignored. It was not a case of an aggressive batsman taking a calculated risk. This was just outright stupid and it played right into the hands of the Australians, who continue to mess with the minds of our best batsmen.
Remember how Aravinda de Silva would be sucked into playing a big shot, only to lose his wicket ridiculously and to earn the nickname 'Mad Max'? Well, Ricky Ponting's presence at short-cover did the trick. Dilshan's foolish arrogance, in wanting to blast the ball through the close-in fielder, is exactly what the Australians wanted.
Soon after the skipper fell in just the second over, Sri Lankan batsmen were playing the customary survival game. A strategy which, no matter how often they pretend to be positive, is engrained in their psyche. What followed was an embarrassing collapse – 105 all out.
At the end of day two, one wonders if curator Jayananda Warnaweera should be blamed? But Australian captain Michael Clarke and Michael Hussey displayed the skill and the talent needed to play Test cricket. They proved that even if the wicket was not the best for batting, it could still be done.
Thanks to the IPL, almost all essentials skills instilled on our top four batsmen through school and first class cricket has been lost. One wonders if any of them still remember what it takes to score a double century, when their backs are against the wall. Now, with Mahela Jayawardene trying to reinvent himself as an ODI and T20 opener, yet another batsman Sri Lanka depended on in Test cricket maybe losing his ability to cope with the five-day game.
Muttiah Muralitharan's absence has not been felt during this first Test, only because taking wickets has not been hard on this surface. It is our batsmen, namely three in our top order, that continue to fail but continue to hold on to their places based on reputation and the occasional century. It is time to introduce youth and rest the seniors based on current form, in Test cricket at least. It is better to lose with the excuse that we have a team in a transitional phase than to have this lot representing our mother-land.