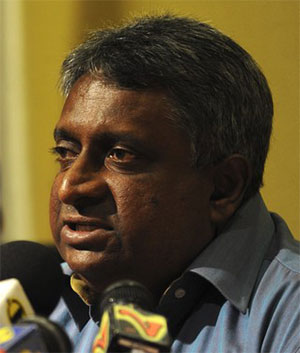 It's time to hold Sri Lanka's selectors responsible for the back-to-back Test series defeats, instead of blaming the players solely. Sri Lanka have lost to England, Australia and now Pakistan under the captaincy of Tillakaratne Dilshan and with the selection panel firmly under the grip of Duleep Mendis.
Chairman of selectors Mendis spoke to the media recently and he felt that he was above any criticism, and it was within his right to be critical of the players and the coaches in the middle of a tour – this is what he had to say,
Mendis noted that this was not the first time the Sri Lanka batting has failed to live up to its potential. "This has happened in three consecutive series starting in England and Australia and now against Pakistan. Compared to Pakistan we have one of the best batting line-ups in Test cricket and experienced players who have made centuries at the highest level. I think it has something to do with the mental approach. Something is not right there and it is the coaches who have to address it.

"Unlike during our time, today there are coaches to handle every aspect of the game, batting, bowling, fielding, so it is their duty to see where we are going wrong. As much as it is the responsibility of the coaches the players must also take a fair share of the blame." Pakistan's bowling attack has been much more incisive than Sri Lanka's over the course of the series, and Mendis felt that was an indictment of the bowling coach. "You take our bowlers there is a marked difference when Pakistan bowl and when we bowl. Their bowlers are able to get life out of a lifeless pitch. I think it is something to do with technique and our bowling coach is responsible for it."

He was also critical of the rest of the support staff for not performing their roles properly. "See the number of players who are injured? Dammika Prasad is unable to play in two consecutive Test matches without breaking down. Yesterday (third day) he did not bowl and we were down to four bowlers. Thankfully we played five bowlers in the Test. "Apart from Prasad there is Nuwan Kulasekara, Shaminda Eranga, Ajantha Mendis and Prasanna Jayawardene all on the injury list. I don't know what our physios and masseurs are doing with the players for them to get constantly injured."
Since becoming the chief selector, Mendis has been responsible for some highly contentious selections, including bringing in Sanath Jayasuriya into the side – after nearly a two-year hiatus – for the ODI series in England to play one ODI and retire from the game. Let's not forget the side-lining of Angelo Mathews for vice-captaincy and picking Thilina Kandamby, who would otherwise have no chance of making into the Sri Lankan team, as vice captain.
Apart from those controversial and poorly thought-out decisions Mendis has been responsible for, he was also responsible for pulling Seekkuge Prasanna out of a A-team tour of England to throw him in, mid-series, into a series against Australia earlier this year. The leg-spinner Prasanna was then given one Test match against Australia and not selected again, not even for the series against Pakistan in UAE – discarded after one Test.
And we all know the right-royal mess Mendis made of Lasith Malinga's Test career.
Mendis is a hindrance to the Sri Lankan team and should no longer be at the helm of selection, and no one should tolerate criticism from him. None of the selectors have any right or authority to question the performance of coaches or be critical of them, let alone criticise players to the media. Mendis has one job – that is to select a squad that the captain and the coach feel can win them matches and scout upcoming talent for suitable replacements. There is nothing required of him further.
If you wonder why our batting has let us down, wonder no more. In the last three Test series, Sri Lanka have gone from opening with Tillakaratne Dilshan and Tharanga Paranvitana to opening with Paranavitana and Lahiru Thirimanne and back to Dilshan as opener in a space of two bilateral series.
Players are tried and discarded to the whim and fancy of the selectors, with none been given a proper run. Nuwan Pradeep had just his debut match to prove his ability and nothing thereafter.
After the ICC Cricket World Cup 2011, when Kumar Sangakkara resigned as captain, he said he would still lead Sri Lanka as Test captain. But Mendis' selectors decided to name Dilshan captain in all formats, while turning down Sangakkara's offer.
It is, therefore, outrageous that Mendis would then tell the Sunday Leader this,
It is believed that current chief selector Duleep Mendis; along with Dilshan and Sanath Jayasuriya (who is now a politician) have control over the selection of the team.

Duleep Mendis countered these charges. When contacted by The Sunday Leader he insisted the reverse saying, 'under no circumstances is the Selection Committee being influenced in their decisions'.

He explained that once Kumar Sangakkara and Mahela Jayawardene had both resigned earlier in the year, they were left with little choice but to appoint Tillakeratne Dilshan as Captain. Asked if he had approached Sangakkara requesting that he reconsider his decision, Mendis stated that he had asked him why he had resigned. To which Sangakkara had responded that, 'his decision was due to personal reasons'.
It is time for Mendis to go.