So it wasn't meant to be. After being the best side in the games before the final, brushing all three teams aside and looking the razor-sharp favourites to claim a hat-trick of victories and win it for a ground-breaking fifth time, a horribly one-sided final panned out in front of an agonized home crowd in Dambulla.
While it is always sad when your country loses, it is amplified to devastation if you are a player. Sangakkara spoke of the Asia Cup as a "prestigious tournament" and the importance of winning "matches for Sri Lanka" and in front of their home audience. Just observing the typical Sri Lankan flair and spirit pointed to yet another win for Sri Lanka.


However as Sri Lanka cruised into their 10th Asia Cup final, surprisingly on a Thursday rather than the more traditional Sunday, for yet another clash with India, there was a growing undercurrent of indignation against the quality of the floodlights. While they obviously met ICC regulations, it was naive of Sri Lanka Cricket to ignore the comments of Lasith Malinga and Gautam Gambhir, to name two.
Even after each lost toss and lost match at the infamous Khettarama stadium, Mahela Jayawardena and Kumar Sangakkara refused to blame conditions and admirably accepted that international sportsmen must take whatever hand they are dealt. However in the two rare occasions where Sri Lanka actually won the toss they batted first and inflicted huge defeats on India. One imagines that had the toss factor not been so polarising, what could have been?
Now in Dambulla, many will point to India's chase against Pakistan and Sri Lanka's win on Tuesday but one must take into consideration the notorious unpredictability of the pitch and that the final was played on a different wicket. If one saw the bounce and swing India's pacemen generated one could have marvelled at what the in-form Nuwan Kulasekara, Lasith Malinga and Angelo Mathews would have done. Indeed back in the Premadasa had Sri Lanka won the toss and given Ajantha Mendis the chance in the dark his bowling and confidence would not have declined so sharply. The extra movement and poor visibility under floodlights renders batting a totally different art.
Sri Lanka were and still are feared for their dominance at home. Batting frailty aside, when toss is boss and you don't have Mahendra Singh Dhoni's obscene luck with the silver you have a situation where Sri Lanka's nous at home is negated. Losses to England, India twice and many unsuccessful chases at the Premadasa dent a proud win-loss ratio.
Excuses aside, our cricketers did not adapt to the idiosyncrasies of the game, hence the defeat. But the sheer helplessness of the plight inflicted by the spin of the coin and the resultant steeper mountain the team batting second must climb, compounded by the recent misfortune of Sri Lankan captains with the toss makes home one dayers a grim tale. The potential repercussions of this are so grim inaction is not an option.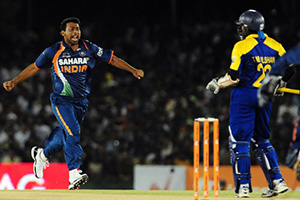 In a press conference before the tournament with Aravinda de Silva, Kumar Sangakkara and Somachandra de Silva a journalist asked Sanga about the importance of the toss. With classic Sangakkara-esque level-headedness he replied we have to be mentally tough and deal with the situation. Easier said than done. Indeed many visiting teams, India included, will fail in this arena.
A miniscule but loud pocket of fair-weather Sri Lankan fans will ridicule the team's efforts, call for Sangakkara's head and bray all kinds of orders from their computer chair. But there is much we can learn from international sportsmen.
In the past two days, we have witnessed former football world champions France and Italy crash out of the world cup. In Wimbledon, John Isner and Nicolas Mahut played the longest match in history knowing one would fall short in the titanic battle. However all these players, including our flagship sporting team, despite having lost this prestigious tournament and chance to win it for a fifth time, will not fall into depression and disrepair. We will return when the Asia Cup is next held, probably 2012 and Aravinda de Silva will continue to architect his plan to bring back the world cup next year.
The next stage of this will be to erase the sadness of today with victory in cricket's finest version and hope that the wicket at Rangiri Dambulu is kinder to the game responsible for its being when Sri Lanka take on India and New Zealand. Our unstinting best wishes are with our country's cricketers. Forget about today. Life moves on. Cricket is just a game and the blast in Pettah puts it all into perspective.