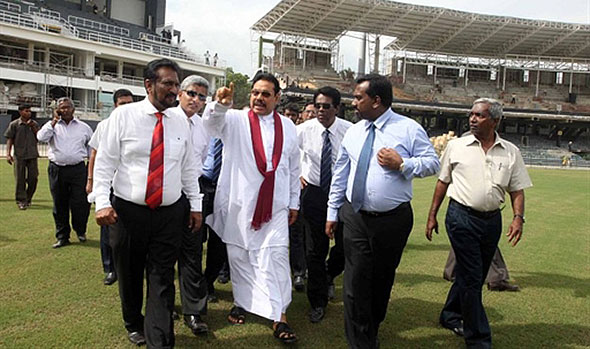 Proposed amendments to ICC constitution aimed at eliminating government interference in member boards. AFP PHOTO/PRESIDENTIAL SECRETARIAT/STR.
A couple of months ago, Gavin wrote on his blog about how the International Cricket Council (ICC) could do more to help nations like Sri Lanka, where the governing body (SLC) is heavily influenced by the government, where elections have not taken place in years to elect able officials and where nepotism is rife.
Gavin highlighted the International Rugby Board (IRB's) decision to strip Sri Lanka of its full member status because it had violated its regulations by not conduction elections.
In his words,
The SLRFU failed to meet the IRB's rules and regulations in place, which requires all full-member nations to conduct elections to appoint officials for rugby's governing body in Sri Lanka.

Contrastingly, Sri Lanka Cricket (SLC) – cricket's governing body on the island – has failed to carry out elections since 2005 and utilises a government appointed ad-hoc interim committee to operate without proper oversight.

The lack of accountability and transparency at SLC saw the chairman Somachandra (DS) de Silva appoint his nephew Suraj Dandeniya as the director of the World Cup secretariat in Sri Lanka for a six-figure (USD) pay package.
The ICC announced recently that it is planning on changing its constitution, which will minimise government and political interference and eliminate interim committees.
The following are the proposed amendments,
Members must provide for (a) free elections and/or (b) appointments from amongst their members for their executive body or nominees from outside their members appointed by their executive body. This obligation shall be included in their statutes. Where there is no such provision or where the ICC Executive Board considers an executive body of member not to have been established by free elections and/or appointments as indicated above, the ICC Executive Board shall have the power to suspend or refuse to recognize an executive body, including an executive body set up on an interim basis.
Where a government interferes in the administration of cricket by a Member, including but not limited to interference in operational matters, the selection and management of teams, the appointment of coaches or support personnel or the activities of a Member, the ICC Executive Board shall have the power to suspend or refuse to recognize that member.
Obviously, there will be opposition to this move by those who will be affected. And there is. Pakistan has got the ball rolling with a lawsuit against the ICC to put a stop to it. Expect similar opposition from all those who are riding the gravy train in Sri Lanka as well.