The current buzz word for the English team seems to be "no1 in the ICC test rankings" this of course largely forced on them by the partisan, patriotic to a fault, English press. They, however, show little signs of taking the bait or being lured into making a play for the title!
In Cardiff as EVERYONE knows they won and unlikely victory. The English commentators have not hesitated to tell us that at every given and in some cases highly unnecessary, opportunity. Largely by lulling the visitors who had come from a boom bash 20/20 tournament into a sense of complacency and turning the heat on in hurry and finishing the match before the Lankans were able to "wake up".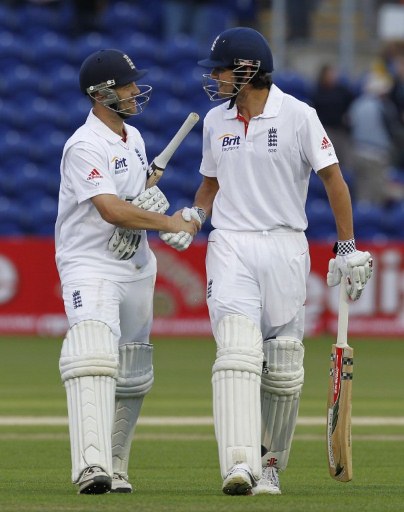 Is this a sign of a great side or just a smart tactic employed by a home team more familiar with the conditions? Does a victory of this nature justify claims of vast superiority and a huge parity between the teams?
To think that they could do it again was arrogance, to bat on until they required the visitors to score 342 runs in a session and a bit was cowardice and not to take the optional last hour was simply lethargy. Above all to assume that the paying public was content to go home after watching this exercise was a gross insult to their collective intelligence.
No one except the Australians enjoy watching one sided massacres! We come to watch a sporting contest and a contest means that both sides have a chance. An earlier declaration, particularly when England knew that Dilshan was out of the equation would have made the match more watchable from a spectator point of view. We all know Test cricket is struggling and watching England's dour run machines in Cook and Trott playing soulless and in this case a selfish innings from Cook, interspersed with some ham-handed bludgeoning from the middle order can only damage a struggling cause.
As for Sri Lanka, the selectors have gone steadily from bad to worse. What in God's name were the likes of Maharoof and DIlhara Fernando doing in the team? The latter with hardly any match practice and the former not even in the original squad to England but drafted in on some pretext or another.
To delve further into this is to be accused of favouritism and even racism so I will leave it up to the reader to form their own conclusions. Welegedera has been compared fleetingly to the great Chaminda Vaas by optimistic journalists but let me tell you his fielding and the need to find a place to hide Sanga when he is not keeping, needs to be addressed urgently.
Sanga and Mahela are still obviously fatigued from the IPL. Thilan looks way out of his depth. So much so that Prasanna Jayawardena looked a far more accomplished batsman than did Thilan on the day. There was nothing that Maharoof did that Thisara couldn't have matched or even exceeded and to have the likes of Randiv sitting on the sidelines while DIlhara continues to ply his trade in No balls is a crime to say the least.
Give the youngsters a break, I say! To take the likes of Chandimal and Thirimanne on tour and to force them to watch this sort of mismanagement can only lead to frustration and a killing off of any youthful optimism that may be present in their minds.
The most disturbing part of all is to watch how our mental attitude seems to have slumped back into the bad old days of the '70s and early '80s (before the advent of Arjuna to the helm) when we didn't seem to be in the same ball park or even the same league.
This is a tragedy which was predicted and largely ignored. Since this is the one sport that we can claim some sort of competitiveness in world terms,more is the pity. This will result in a sharp slump to be compared with the fate of West Indies cricket although we never reached the heights of the great West Indian sides.