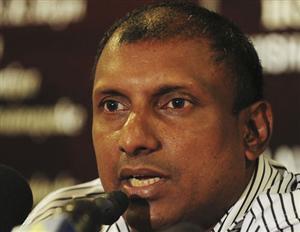 When Aravinda de Silva was appointed Chairman of Selectors, he made an unusual promise; de Silva promised to talk to players and explain to them why they were dropped from the side when changes in the squad took place.
Just a few months later, Farveez Maharoof in an interview with zeecric.com wants to know why he was axed from the Sri Lankan cricket team for the on going tri series.
"I am really disappointed… I don't know what happened, but I can say that it hurt me a lot. I want to know the reasons behind my exclusion," Maharoof told the website.
After picking up a rare hat-trick in the Asia Cup 2010, but failing to impress in the final of the same tournament, Maharoof claims he has no idea why he was excluded.
"Nobody called me to inform why I was not included in the team," Maharoof lamented when asked if the captain or the selectors contacted him.
Just like Sri Lankan politicians, it appears that Aravinda de Silva too has fallen back on his promises.
"I performed well in the last three ODI matches. I did well even in the practice matches against New Zealand. So, I really don't know what the reason behind my exclusion from the side is. But I have confidence that I will be back in the team soon," Maharoof added.