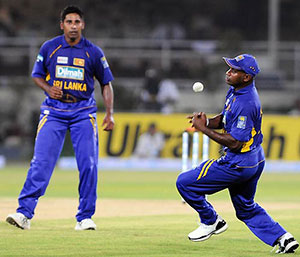 There won't be a final hurrah at the World Cup for the men, who along with Muttiah Muralitharan, helped put Sri Lanka on the world sports map. That's all the two champions had asked for – one last chance at the 2011 World Cup to bid farewell.
If the selectors were decisive and if Sri Lanka Cricket officials were a more capable bunch, they could have been clear, early, squashing any false hopes that Jayasuriya and Vaas may have had of playing in the World Cup. They weren't.
Instead, they included the two in the 30-man preliminary squad, building up their hopes unnecessarily, only to tear it all down cruelly. Last year, when both Vaas and Jayasuriya spoke to the press, expressing their interest in playing in the World Cup, Sri Lanka's selectors should have been honest with them – they owe them that much. These are, after all, two of Sri Lanka's greatest players.
We have a very troubling way of saying goodbye to our former heroes.
Ideally, when Aravinda de Silva and the new selection panel took over, Sri Lanka Cricket could have made it known to these senior players, via it's new selection panel, that their time was up.
An event to celebrate their careers, as Trevor Chesterfield pointed out in his column, would have been ideal.
As Chesterfield put it,
As for farewell events to honour players, Cricket South Africa used the occasion of the first Krish Mackherdujh Trophy game with India at the former World Cup soccer venue, Moses Mabhida Stadium to pay tribute to Makhaya Ntini for his service to the game and his icon status. The game, which drew some of Bollywood stars was also designed to commemorate the arrival of the Indians in South Africa 150 years ago. It is hard to imagine, though, the SLC cronies even thinking of pay a fitting tribute to both veterans.
Discarded and dejected is a pretty sad way for two of Sri Lanka's sporting legends to go. If only the selectors and SLC officials were forthright and honest, asking them to wrap up their international careers last year, perhaps giving them a match each during one of the many tours that featured India, instead of giving them more reasons to prolong their careers, it wouldn't have come to this.