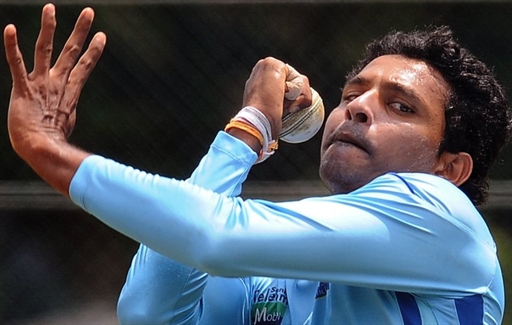 I have decided not to expect Sri Lanka to win this World Cup, as the team combination looks so unbalanced. Especially the omission of Randiv is intolerable. He had the chance to easily become the highest wicket taker of the tournament on these decks! Anyway I wish all the best to Sri Lanka team as I don't have any other option left. But guys like Sanga, Murali, Mahela, & Mathews will be under more pressure to perform better to let Herath get hit for Sixes against his Test Match oriented bowling, Dilhara to be in-consistent as always & Silva to waste around 20 deliveries & get out trying to hit the biggest Six of the tournament!
It must be very hard for Randiv to accept this decision after putting probably the best ODI bowling performances by a Sri Lankan during last year, apart from the bowling I still remember he set the standards in the fielding, especially the catch to get rid of Ghambir in an ODI. We hail Dilshan & Kapu in the fielding department, but watch following videos & you will get to know that he is best fielder after great Mahanama.
http://www.youtube.com/watch?v=kjZZrhd_eLw
http://www.dailymotion.com/video/xdsb5g_randiv-gambhir_webcam
The most disappointing fact is that there is no one in the current squad who can replace this talent. Especially the guy who is selected ahead of Randiv, Rangana Herath is no match for him. What I can't understand here is the strategy of Aravinda. He just did this selection out of no where, no prior indication what so ever, which is weird.
Aravinda might have thought that Randiv is less effective on sub-continent pitches and he could only perform well in bouncier pitches like in Australia where he did extremely well recently. But he has only played three matches there. He performed equally well, if not better, in sub-continent against the best players of spin: the Indians.
On the other hand Herath bowled well in Test matches and it doesn't necessarily make him a safe bet for ODIs. He could be a very good bowler against test batsmen, but against batsmen in ODIs, where they constantly looking for quick runs he will be targeted with his flighted deliveries. We can't really say how he is going to perform in ODIs. The best thing would have been to give him a chance to play in a few ODIs and not putting him straight to a world cup
In a tournament such as a world cup we must have prior preparations against each counterparts. So when ever we get a game against each opposition we must make sure we have the right arsenal to counter them. I'm quite sure that we will have less chances in a match against India, because in the matches we won against them in the recent history, the stand-out performer was Randiv when it comes to bowling. Thanks to IPL Indians now know Murali & Mendis more than our own batsmen do 🙂
So all in all its the biggest disappointment in this selection and not to mention the inclusion of Dilhara & Silva. I hope Aravinda will reason out these decisions sooner rather than later and hopefully they will be reasonable enough for all of us to bare with. If we are lucky enough to score big totals & chase comfortably during the upcoming World Cup we could still win it. Now our bowling department is so thin, more responsibility will be on batsmen ! but the sad thing is we have to now rely more on luck !!!!
I hope I am wrong !!
PS: this is my own stance & anybody is welcome to retain their own point of view