By Andrew Fernando | November 2, 2011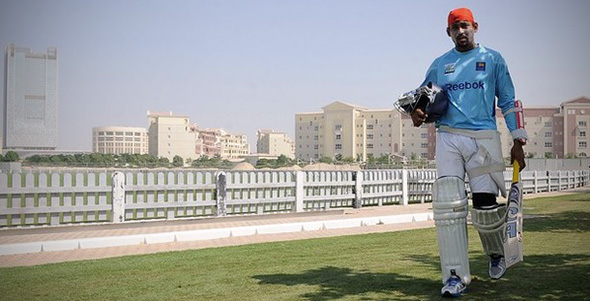 Skipper Tillakaratne Dilshan is under immense pressure to provide results. © AFP/Lakruwan WANNIARACHCHI.
It was the bowling that was to be Sri Lanka's bane, post-Murali. An attack headlined by Rangana Herath's dutiful dippers, with support from the most humdrum opening Test pair Sri Lanka have had in a decade-and-a-half, was never expected to terrify opposition video analysts the same way Murali or Malinga did. The reputations were well deserved too – among the lot of them, they are yet to string together two sessions of good-quality bowling, let alone win Sri Lanka a match.
Yet, the most pathetic aspect of Sri Lanka's slump has not been their wicket-taking impotence, but the brow-furrowing regularity with which a batting lineup boasting some of the dishiest digits in cricket has flopped against competent but rarely brilliant bowling.
The batting woes, auspiciously, seem to have begun in Cardiff – Dilshan's first outing at the helm.
An underwhelming top order performance was propped up by Prasanna Jayawardene's finest knock to-date in the first innings. Then, they all fell on their swords in the second, on a wicket as friendly a fifth-day surface as you will find on the Isles. Two matches later, they folded to Chris Tremlett at Southampton for 184, this time saved by rain and some second-dig resolve.
The 105 all out in the next game was blamed on the Galle pitch, even though the two highest individual scores in the match came in the fourth innings. Scores of 174, 194 and 239 have followed in the four matches since. In fact, in the last six Tests, Sri Lanka have only passed 250 once in the first innings – failing to make 200 on four of those occasions. These are not just scores that make winning Tests impossible, they are totals that make losses almost inevitable.
So what ails Sri Lanka's batting? They were a successful bunch not so long ago, and there have been no major personnel changes, bar one. Thilan Samaraweera's axing, though seemingly unfair given his hefty average, was not altogether undeserved. His record outside the subcontinent continues to be woeful and his recent form is as poor as that of any 35-year-old abandoned in favour of fresh talent.
Apart from Lahiru Thirimanne, each of the top six has proved his credentials at Test level. Two have done much better. Mahela Jayawardene can lay claim to batting greatness not only among Sri Lanka's ranks but perhaps among the modern geniuses, standing beside the likes of VVS Laxman and Rahul Dravid – one rung down from immortality. Kumar Sangakkara, meanwhile, averages over 70 as a specialist batsman – a role he has now performed for most of his career.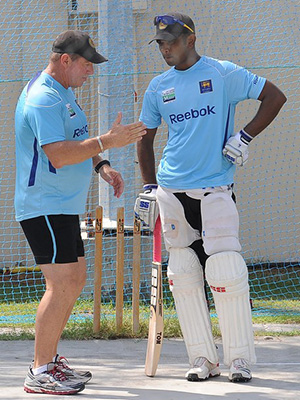 With Tillakaratne Dilshan, Tharanga Paranavitana and Angelo Mathews making up the rest of the order, Sri Lanka should not be failing so often, or so thoroughly. The country's cricket used to be characterised by its fight in the absence of talent. Now, when the team is seemingly awash with ability, resolve is deserting them.
Listless during their long occupations of the field, and dispirited as they witness the now-familiar collapses on it, Sri Lanka's woes bears the hallmarks of a crisis of leadership. It is difficult to doubt Dilshan's intentions, but under him the team seems to have lost a sense of purpose. They have failed to set games up with the bat when they've won the toss – hinting at the lack of a compelling gameplan, or the lack of will to carry it out, or both.
This, if only this, was Sri Lanka's strength only two years ago: bat first, bat big and let the spinners do the rest. Now, when the bowlers need all the help they can get from pressure created by a big total, the batsmen expose them to the opposition when conditions are at their best for run-making. The only bright spots for Sri Lanka in recent Tests have been their neck-to-the-buzzsaw second innings batting, where looming defeat has galvanised the team and provided a clear goal for which to strive.
The problem for Dilshan is of course compounded by a cricket board in its sorriest state in years. And there are few fair criticisms you can level at him given he got the job by default. Two men, who are better suited to the captaincy in almost every way, don't want the job. And as Mathews' deliberate pottering antics in the Lord's one-dayer showed, he is far from ready to lead.
What Sri Lanka need once more is that nuggety spirit from previous eras. The determination that a team must be much more than the sum of its parts. The belief that a moment of magic can transform Tests and turn series. They may not have the attack to fell fearsome opponents, or to top Test rankings, but they can produce performances that demand respect.
Dilshan may be all we have, but unless he finds the gall, attitude and inspiration to be a leader, this team will continue to lose its way.
© Andrew Fernando/Island Cricket.