By Andrew Fernando | June 29, 2011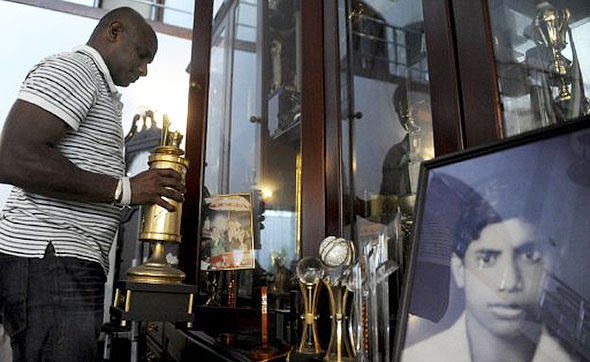 Sanath Jayasuriya takes one last look at his trophy cabinet at his home in Borelasgamuwa in Colombo on June 16, 2011, before flying out to England for his final international tour. AFP/shara S. KODIKARA.
So, Tuesday's game wasn't a particularly fitting finale. First, the weather threatened to rain on Jayasuriya's parade. The bowling was then jammed through the shredder. And the Cardiff-esque batting made most fans want to cut ourselves and gouge our own eyes out. There was nothing particularly tough about the conditions or the opposition. Sri Lanka just decided it was going to be one of those days – something that's been happening, worryingly often, lately.
It was a shame though. Frustrating as the Jayasuriya saga has been in recent times, the man deserved better. Not that many are complaining that he's finally gone, mind you. It's just that… he did so much before it all became so farcical.
For so long, he was the island's favourite son, outbidding even Murali for the nation's hearts. Hailing from the outstations and having little to do with Colombo's elite, he was an obvious pick for 'man of the people.' It helped that he played like he was from the outstations, too. No refined cover drives, no picturesque glides down the ground. Jayasuriya played like how millions of Sri Lankan children played on the streets every day. Crash, wallop, bang! Watch the ball and hit it. All this, long before Sehwag, Gilchrist or Tamim; Jayasuriya took a staggeringly simple batting philosophy and made it work at the highest level.
His humility also endeared him to a people who value the virtue more than most. Jayasuriya never really had swagger, even while ripping attacks to shreds. He just put his head down and played cricket the only way he knew how. Every slash to the fence or larrup into the stands was followed by a jog down the pitch and a readjustment of the pads – a ritual he'd picked up from a time when his pads were held together by handkerchiefs and pieces of string.
Even at the zenith of his career, when he was undoubtedly the best ODI batsman in the world, he'd still look down after every four to make sure nothing had come apart. For much of his career, despite the success and the accolades, Jayasuriya somehow seemed out of place in the environs he had dominated for twelve straight years.
Fittingly, he was also a far greater player than the statistics care to show. A batting average of 32, is barely passable for an ODI opener, but few worldwide would deny him as one of the game's greats. Sri Lanka won close to 90 per cent of their matches when Jayasuriya scored over 45. He was as vital to Sri Lanka's success in 50-over cricket as Murali was in Tests. Very few players can claim to have revolutionised their sport and spawned a generation of imitators.
In a way, it makes sense that he only retired after exhausting every avenue to keep himself in the team. For a man whose cricket mocked traditional wisdom and achieved the seemingly impossible against daunting odds, his decisions – however regrettable – were strangely understandable. He had taken the fight to the world's finest attacks and triumphed where others before him had only dared to survive. What were waning skills and dying reflexes?
In the end, it was fitting that he went down playing the cut. Those eyes lit up once more. The forearms flexed. The sinews glistened. And that booming bottom hand came thundering down on a short, wide one for the last time. The shot he had lived and died by for 21 years was his last act on a cricket pitch. On the night, he did what he had always done. The ball was there to hit, so he obliged in typically emphatic fashion.
Jayasuriya had played his part to perfection. Alas, fate refused to play along.

© Andrew Fernando/Island Cricket